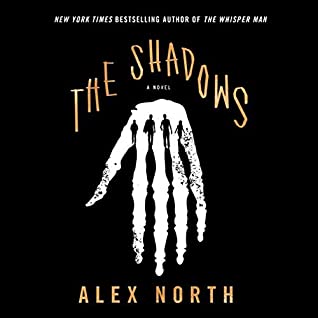 The Shadows
by Alex North
Narrator: Hannah Arterton, John Heffernan
Length: 9 hours and 5 minutes
Genres: Psychological Thriller
Source: Publisher
Purchase*: Amazon | Audible *affiliate
Rating:

Narration: 4 cups Speed: 1.3x

The haunting new thriller from Alex North, author of the New York Times best seller The Whisper Man.

You knew a teenager like Charlie Crabtree. A dark imagination, a sinister smile - always on the outside of the group. Some part of you suspected he might be capable of doing something awful. Twenty-five years ago, Crabtree did just that, committing a murder so shocking that it's attracted that strange kind of infamy that only exists on the darkest corners of the internet - and inspired more than one copycat.

Paul Adams remembers the case all too well: Crabtree - and his victim - were Paul's friends. Paul has slowly put his life back together. But now his mother, old and senile, has taken a turn for the worse. Though every inch of him resists, it is time to come home.

It's not long before things start to go wrong. Reading the news, Paul learns another copycat has struck. His mother is distressed, insistent that there's something in the house. And someone is following him. Which reminds him of the most unsettling thing about that awful day 25 years ago.

It wasn't just the murder.

It was the fact that afterward, Charlie Crabtree was never seen again....
Narrated by Hannah Arterton and John Heffernan, The Shadows by Alex North, Paul returns to the scene of a bizarre murder-mystery that will keep you listening into the wee hours.
I have North's Whisper Man on my audio wishlist and listened. The author and narrators slowly pulled me into the story.
Paul Adams returns to his childhood home when his mother has a fall. He left when he graduated and never looked back. Events surrounding Charlie Crabtree made Paul want to forget. But coming home stirs up memories and questions.
The second narrative is that of Detective Amanda from Featherbank, whose investigating a ritualistic murder performed by two teens. Her investigation leads her to Charlie Crabtree and eventually Paul.
While the story dragged in places, or perhaps I was impatient and frustrated by the audio player, the flashbacks were atmospheric with supernatural-like elements. I found myself asking if Charlie was dead. Childhood Paul and adult Paul aren't much different, and he struggles with seeking answers and trying to forget. What he finds in his attic and the questions from Amanda raise questions. Combined with eerie threats and disturbances, North raised the hair on the back of neck.
The storyline was suspenseful as the past met the present. North brought it all together and made events feel plausible. Something is definitely wrong with the water in Gritten, and I for one won't be visiting. If Paul is smart, he'll take the next train headed north.
"Red hands, red hands, red hands everywhere."
John Heffernan did a stellar job as the voice of Paul. He had to perform them both as adults and young teens. His voice was believable and enhanced the overall tale. John's narration was perfect for me at 1.3x
Hannah Arterton was the voice of Amanda and she captured the young tenacious detective. Hannah naturally talks fast and each time her narration began I had to adjust the speed. I listened to her at 1x, something I never do.
A refreshing and bizarre tale that I couldn't set down. Grab your earbuds and check it out.
Narrated by John Heffernan & Hannah Arterton, The Shadows by Alex North delivered a creeptastic tale as John returns to his childhood home of Gritton and the horrors he left behind. #thriller #audiobook #mustlisten
Click To Tweet
Reading this book contributed to these challenges:
Related Posts