Nonna's Corner is a special feature where I share books I've reviewed with my grandchildren, affectionately referred to as the "Royals" here at Caffeinated. We hope you enjoy them and find books to share with your little ones.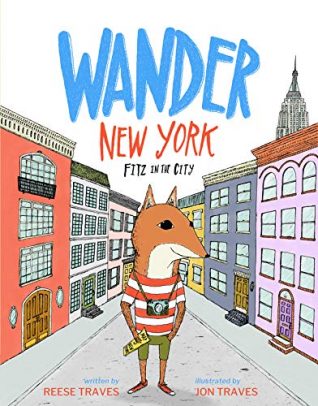 Wander New York: Fitz in the City
by Reese Traves
Illustrator: Jon Traves
Series: Wander Often Wonder Always #1
Genres: Childrens
Pages: 36
Source: Publisher
Purchase*: Amazon *affiliate
Rating:
Experience the delight found at each and every turn and the fun it is to wander, wonder and learn!

Fitz the Fox can't wait to see all that New York City has to offer--but will he get to see the penguin feeding or will a subway snafu derail his plans? A whimsical, sight-seeing jaunt that encourages wonder with rhyming text, peppered with facts and trivia along the way!

Join Fitz as he visits the Statue of Liberty with her 8 foot long index finger, the bustling crowds of Grand Central Terminal, the wondrous, book-filled spaces of the New York Public Library, and marvels at the sky-scraping height of the Empire State Building.

Continue to wander with a walk from Manhattan to Brooklyn across the Brooklyn Bridge and visit the Bronx Zoo along with more iconic landmarks while exploring this exciting city!

Follow Fitz at wanderwithfitz.com for more fun and adventures!
We are off to New York City with a fox named Fitz. Curl up with a cuppa and see what we liked about this first book in the Wander Often Wonder Always series.
Wander New York: Fritz in the City, written by Reese Traves and illustrated by Jon Traves, is an oversized paperback, with brightly colored images. Within its pages Fitz and his Mom begin their adventure in a taxicab. Fitz invites us along on his first trip EVER!
This was a fun story that not only explored the city from museums, parks and even a stop at the library but also contained interesting tid-bits about the places we visit. These are broken out separately from the story itself.
The first time we read it, we just allow ourselves to enjoy the tale, worried about missing the penguin feeding, and marveled at the city. This was enough for Clayton (three). However, Sophia, (five) loves to read over and over the first day until she has memorized the story. She loved all the fun facts about the Statue of Liberty of to the details about the subways. (underground trains)
I love that the story will grow with them. This would make a significant addition to a classroom library or a perfect gift for your little one before a trip to the city. It encourages questions, allows for working out solutions, and one cannot help but become caught up in Fitz's trip.
The illustrations and colored keywords engage the young reader/listener and allow for vocabulary building and primary color reinforcement.
Wander New York: Fritz in the City written by Reese Traves and illustrated by Jon Traves allows young readers to explore New York City. #childrens #learningisfun #WanderOftenWonderAlways
Click To Tweet
Related Posts