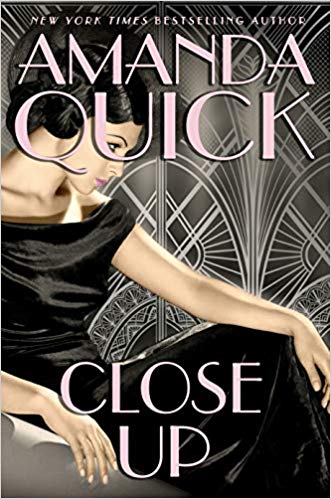 Close Up
by Amanda Quick
Series: Burning Cove #4
Genres: Romantic Suspense, Historical
Source: Publisher
Purchase*: Amazon | Audible *affiliate
Rating:

Heat Level:
Welcome to Burning Cove, California where 1930s Hollywood glamour conceals a ruthless killer…

Vivian Brazier never thought life as an art photographer would include nightly wake-up calls to snap photos of grisly crime scenes or headshots for aspiring male actors. Although she is set on a career of transforming photography into a new art form, she knows her current work is what's paying the bills.

After shooting crime scene photos of a famous actress, the latest victim of the murderer the press has dubbed the "Dagger Killer," Vivian notices eerie similarities to the crime scenes of previous victims—details that only another photographer would have noticed—details that put Vivian at the top of the killer's target list.

Nick Sundridge has always been able to "see" things that others don't, coping with disturbing dreams and visions. His talent, or as he puts it—his curse—along with his dark past makes him a recluse, but a brilliant investigator. As the only one with the ability to help, Nick is sent to protect Vivian. Together, they discover the Dagger Killer has ties to the glitz and glamour of Hollywood royalty and high society. It is a cutthroat world of allure and deception that Vivian and Nick must traverse—all in order to uncover the killer who will stop at nothing to add them to their gallery of murders.
In Close Up by Amanda Quick, a photographer soon finds herself a serial killer's next mark. Travel to 1930s Burning Cove, California, a favorite travel destination of the stars.
Suspense, Romance and an intriguing murder mystery will quickly pull you in. While this is the fourth Burning Cove novel from Quick, each book has its own romance and engaging mystery. With a dash of paranormal woo-woo and references to the Arcane Society, fans will want to grab this one!
We meet photographer, Vivian Brazier, a young woman cut off from her family's funds for pursuing a career in art. To make ends meet, she takes crime scene photos and tips a detective off to clues she picked up at the scene. This unknowingly places her in danger.
Nick Sundridge has a talent to "see" things through disturbing dreams and visions. When Vivian's name appear in an encrypted diary, Nick acts as her bodyguard. As their attraction grows, he works with others to thwart a killer.
The tale that unfolds was suspenseful and offered us a glimpse into Nick's talent and past. Quick hooked me as the danger mounted and the chemistry between this commitment shy couple grew.
Readers of the series are treated to scenes with key characters & couples as we check into the exclusive hotel in Burning Cove. I found Quick's detailed technical knowledge of 1930s photography fascinating. She brings the period to life and often shares tidbits that have me exploring Google.
While the romance was predictable, the case and the killer's perspective pulled me in. Quick has endeared me to the characters in this series. I delighted when they aided Nick and Vivan. Secondary characters added interest. I'd like to get the story of Vivan's sister.
Fans of the Arcane Society, 1930s murder-mysteries and romantic suspense will swoon over Close Up.
In Close Up by Amanda Quick, a photographer soon finds herself a serial killer's next mark. #NewRelease #MustRead #RomanticSuspense #HistoricalFiction
Click To Tweet
Related Posts