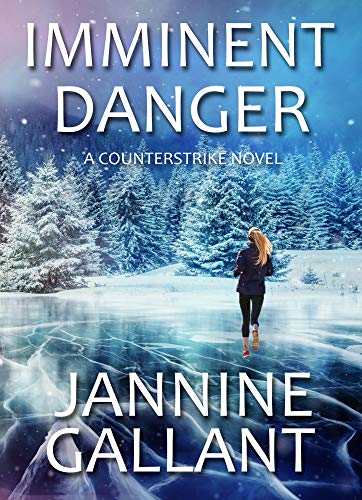 Imminent Danger
by Jannine Gallant
Series: Counterstrike #3
Genres: Romantic Suspense
Source: Author
Purchase*: Amazon *affiliate
Rating:

Heat Level:

Can they rekindle their love before a killer strikes?

Brody Grant had it all—wealth, the woman of his dreams, and a young son he loved more than life. But his world came crashing down the day River was kidnapped and murdered. Torn apart by grief, he creates Counterstrike, a covert team of highly trained operatives whose sole mission is to rescue kidnap victims.

After losing her only child, Arden Grant tried to pick up the pieces and go on. But her husband is distant, immersed in his perilous quest to save others. Leaving Brody to live in the backwoods of Vermont, she searches for solace in simplicity.

Brody finds fulfillment in his work, even if he can't forget the only woman he ever loved. Until he crosses paths with a vicious psychopath with a very personal connection. On a single-minded crusade to track down his adversary, Brody unwittingly puts Arden squarely in the crosshairs of a ruthless murderer.

Arden wants no part of the danger her ex-husband brings into her safe but lonely world. Except neither of them can find peace until they stop a madman and put the past to rest. And maybe discover a future together they both believed was lost forever.
Imminent Danger by Jannine Gallant is the third novel in the Counterstrike romantic suspense series. This story belongs to founder and leader, Brody Grant. Gallant delivers heart-pounding danger and a swoon-worthy second chance romance.
The books in this series will work on their own. Each contains a case and romance. However, we see members of the Counterstrike team and get updates on couples, therefore I recommend you read them in the order of their release, even if it isn't necessary.
Brody story tugged at my heart-strings and explains why he formed Counterstrike. The kidnapping and death of their son River proved too much for his marriage to Arden Grant.
Arden has moved from the city and lives alone raising bees, running a small online shop and surrounding herself with animals. While she loves Brody; his career and a lack of communication after losing their son caused her to end their marriage.
The two encounter each other at the cemetery and end up having lunch together. A decision that will later put Arden in harm's way when the Counterstrike team foils a kidnapping and anger a man determined to ruin Brody.
The case was intense with danger and revelations, but it also forced Brody and Arden to spend time together and talk. Character growth, communication and their sizzling chemistry made this second chance romance; sweet, tender and believable.
The case was intense and even afforded us the killer's perspective. This amped up the suspense. We had explosive and climatic scenes that were intense. Gallant kept things grounded, which gave believability to these scenes.
I loved the characters Gallant created, and the interaction of the team coupled with those they love. We get updates and get to watch this dynamic team work together.
Gallant did a wonderful job capturing the emotions and reactions of those who have suffered an unimaginable loss. She shared how we each react differently and how others perceive and interact with those who have suffered a loss. It felt genuine and added depth to the story.
I closed Imminent Danger with a smile. I am looking forward to the next installment in this stellar romantic suspense series.
A second chance romance and a suspenseful case await you in Imminent Danger by Jannine Gallant #RomanticSuspense #CrimeThriller #MustRead
Click To Tweet
*Available in Kindle Unlimited
Related Posts