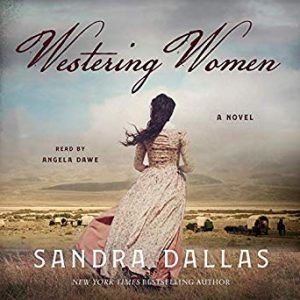 Westering Women
by Sandra Dallas
Narrator: Angela Dawe
Genres: Historical Fiction
Source: Publisher
Purchase*: Amazon | Audible *affiliate
Rating:

Narration: 5 cups Speed: 1.3x

"If you are an adventuresome young woman of high moral character and fine health, are you willing to travel to California in search of a good husband?"

It's February 1852, and all around Chicago Maggie sees the postings soliciting "eligible women" to travel to the gold mines of Goosetown. A young seamstress with a small daughter and several painful secrets, she has nothing to lose.

So she joins forty-three other women and two pious reverends on the dangerous 2,000-mile journey west. None of them are prepared for the hardships they face on the trek through the high plains, mountains, and deserts. Or for the triumphs of finding strengths they did not know they possessed. And not all will make it.

As Maggie gets to know the other women, she soon discovers that she's not the only one looking to leave dark secrets behind. And when her past catches up with her, it becomes clear a band of sisters will do whatever it takes to protect one of their own.
I first learned about Westering Women by Sandra Dallas on the Reading Frenzy, and when opportunity presented itself I grabbed my earbuds and devoured this historical fiction. I laughed, cheered and cried right along with these women on their perilous journey west.
Narrated by Angela Dawe, our tale begins in Chicago, 1852. It's a dark time for Maggie and her young daughter. It's also when she spies a flyer soliciting "eligible women" to travel to the gold mining town of Goosetown, California; where hundreds of men are need of wives.
From the start, we know Maggie is hiding a terrible secret, but she meets another woman named Mary who vouches for her and they join forty-two other women and two pious reverends on the dangerous 2,000-mile journey west.
The story that unfolds is wonderfully told. Maggie and Mary were the main characters but before the journey ends we learn about others from their strengths to weaknesses. They will travel prairies, cross rivers, face attacks, bake in the desert and bury their dead. While religion flows throughout the story, it wasn't preachy and felt natural with the story. Not all the women were devout.
It isn't an easy story, and indeed at times, I wept like a baby even as I cheered and whooped at their successes. I will warn you there are triggers. View Spoiler » Abuse, rape, murder, assault, child abuse, death « Hide Spoiler These women made this journey for reasons beyond that of just seeking a husband. While it was not overly graphic, the author didn't shy away from the dangers and truths these women faced.
Dallas sheds light on the gold rush, and the perils young women faced during this time period. We got to know key characters and learn their stories as they learned to drive oxen, sacrifice, arm themselves, and work together to survive.
The story was wonderful on audiobook, thanks to Angel Dawe who gave the character's voice. If you enjoy audiobooks, I recommend this format.
If you love stories about female friendships, heroes, and bonding or love tales surrounding the Oregon Trail and American history, you'll want to add Westering Women to your bookshelf.
Grab your earbuds and laugh, cry and cheer for the women you'll meet in Westering Women by Sandra Dallas #audiobook #historicalfiction
Click To Tweet
Reading this book contributed to these challenges:
Related Posts