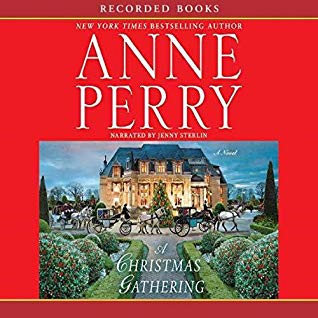 A Christmas Gathering
by Anne Perry
Series: Christmas Stories #17
Narrator: Jenny Sterlin
Length: 4 hours and 44 minutes
Genres: Historical, Mystery
Source: Publisher
Purchase*: Amazon | Audible *affiliate
Rating:

Narration: 4.5 cups
A cold case adds an extra chill to the holiday season as bestselling author Anne Perry whisks readers to an English country house for a Christmas of secrets, soul-searching, and forgiveness.

As beautiful as it may be, their friends' country home is not where Lady Vespasia wishes to spend Christmas with her new husband, Victor Narraway. She'd rather pass a relaxing holiday at home with him--especially because Victor, former head of the London Special Branch, seems to be hiding some undercover dealings with the other guests who have gathered in the spacious home.

As tensions grow among the couples, the young and beautiful Iris Watson-Watt becomes the center of several men's focus. Unbeknownst to Vespasia, Iris carries a message for Victor that may help unmask a British traitor. As Victor plots his moves, he is reminded of a similar case from twenty years before, when a young Frenchwoman also carried a clandestine message--one that resulted in her murder, still unsolved to this day. Victor has always been tormented by his failure to protect her--and now, with all eyes on Iris, Victor must act fast before history repeats itself.

With the joy of Christmas at risk of being forgotten and Vespasia feeling alone on this holiday meant to be shared with loved ones, Victor must ultimately learn to forgive himself.
Sophia Rose is here to share a holiday historical mystery. Grab a cup of hot cocoa and check out her thoughts on A Christmas Gathering by Anne Perry.
Sophia Rose's Review
Every year the author delivers up to fans an engaging and heartwarming side story to one of her series with a Christmas holiday setting for one of her minor characters to shine and solve their own mystery. This year, the author returns to Victor and Vespasia from the Thomas and Charlotte Pitt historical mystery series and couldn't have chosen better in my book. I chose to go back and forth between print and audio versions of the book.
A Christmas Gathering is the seventeenth of the Christmas stories. The story is standalone, but the characters are from one of the author's Victorian era mystery series where they are introduced as well as their meeting, courtship and marriage.
Lady Vespasia is a woman in the winter of her life. An earl's daughter and the most beautiful and striking woman from her early years even to now, she has stunned her family and circle of acquaintance by falling in love with and marrying ruthless and darkly secretive much younger Victor Narraway once the head of Britain's Special Branch. Now, they are suddenly accepting an invitation to a house party after she thought they would spend a quiet Christmas at home together. She doesn't ask what his going on when she sees the hidden expression on Victor's face that tells of a top secret mission that he won't tell her about. But, the house party is made up of mostly people she is acquainted with and soon she notices the tension and feels the atmosphere of what would otherwise be a lavish and traditional English country Christmas.
Victor still can't believe his good fortune that Vespasia didn't spurn his love and married out of her sphere and decidedly beneath her. This makes him feel more vulnerable than he ever has in his life so he won't tell her about the huge deadly mistake he made many years ago and how this mission he is on will be his vindication of the past and maybe give him some answers. Only, someone at this house party seems to know about the new mission and maybe the past is about to repeat itself.
The author couldn't have pleased me more than during the series when she brought these two favorite characters into a Winter romance and now gives them their own mystery to solve together during the Christmas season. This is novella-length so it does move along though it was highly developed and full of much introspection on the part of both characters. I enjoyed contemplating what an older pair would feel marrying late in an age and class difference situation, but it was also fun to see Vespasia using her rapier wit on a bitter woman who took shots at her and when the woman's husband took shots at Victor. The Christmas setting was there, but the focus was on the characters and the mystery.
This was my first time experiencing Jenny Sterlin's narration work and I was impressed by her ability to do older and younger characters, genders, classes, and even match the tone and pace that was just right for this novella. I will definitely be looking for more of her work.
Another lovely historical holiday mystery from a favorite author.  I definitely recommend all her series for those who adore historical mysteries and this one in particular for those looking for a historical mystery set during the holidays.
Sophia Rose shares a lovely #historical #mystery A Christmas Gathering by Anne Perry. #audiobook
Click To Tweet
Related Posts