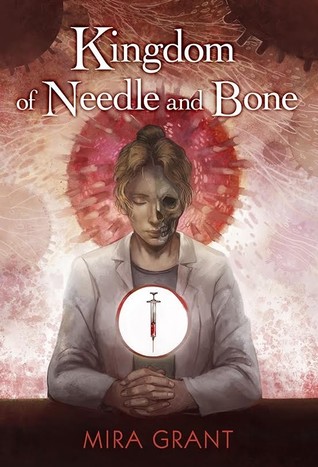 Kingdom of Needle and Bone
by Mira Grant
Genres: Horror, Science Fiction
Source: Publisher
Purchase*: Amazon *affiliate
Rating:
We live in an age of wonders.

Modern medicine has conquered or contained many of the diseases that used to carry children away before their time, reducing mortality and improving health. Vaccination and treatment are widely available, not held in reserve for the chosen few. There are still monsters left to fight, but the old ones, the simple ones, trouble us no more.

Or so we thought. For with the reduction in danger comes the erosion of memory, as pandemics fade from memory into story into fairy tale. Those old diseases can't have been so bad, people say, or we wouldn't be here to talk about them. They don't matter. They're never coming back.

How wrong we could be.

It begins with a fever. By the time the spots appear, it's too late: Morris's disease is loose on the world, and the bodies of the dead begin to pile high in the streets. When its terrible side consequences for the survivors become clear, something must be done, or the dying will never stop. For Dr. Isabella Gauley, whose niece was the first confirmed victim, the route forward is neither clear nor strictly ethical, but it may be the only way to save a world already in crisis. It may be the only way to atone for her part in everything that's happened.

She will never be forgiven, not by herself, and not by anyone else. But she can, perhaps, do the right thing.

We live in an age of monsters.
Kingdom of Needle and Bone by Mira Grant offered a relevant, thought-provoking tale with bone-chilling realism. Despite being a novella, the tale was rich with detail and held me captive. Ms. Grant I need more….
Mira Grant has long been a favorite author of mine from zombies, parasites and mermaids she always delivers a tale that stays with me long after I've closed the book. She isn't afraid to address thought-provoking and relevant topics. In this story she tackles vaccinations. The tale that unfolds offers both sides of the equation while delivering a chilling possible outcome.
When you open news channel and read about outbreaks of once eradicated diseases because of an increasing number of citizens refusing to vaccinate In Kingdom of Needle and Bone, Grant offers a possible & chilling outcome of this new movement.
We follow, Dr. Isabella Gauley, whose eight-year-old niece was patient zero in what would become known as Morris's disease. When an eradicated virus rears its ugly head and causes a pandemic outbreak, one that has long reaching consequences.
One thing I love about Grant is her chilling ability to make her stories feel very realistic. She fills her stories with thought-provoking facts and easy to digest scientific jargon.  She writes intense and interesting characters whose stories and circumstances hook me from the first page.
While vaccines are readily available to everyone, we quickly see how money and privilege will change the outcome for some as a second wave of illness spreads worldwide.
This story is far from over, and while there isn't a mention of it, I anticipate this is only the first story in what has already proven to be a riveting tale. I have questions about the sisters, and want a broader look at the world and others.
Siblings, secrets and global reaction left me itching for more from this world. What happens next?
This story is available in eBook format and from Subterranean Press as one of their deluxe hardcover editions.?
Kingdom of Needle and Bone by Mira Grant offered a relevant, thought-provoking tale with bone-chilling realism #horror #ScienceFiction #FavoriteAuthor
Click To Tweet
Reading this book contributed to these challenges:
Related Posts