The following titles are perfect for this spooky time of year. It's up to you whether or not you read or listen to them. I've got a little of everything below from creeptastic horror to suspenseful thrillers. Be warned.. ..leave the lights on!
While The Lottery and Lamb to the Slaughter by Shirley Jackson are my earliest experiences with horror before moving onto Dean Koontz, Stephen King and Peter Straub (curiosity of the books under my mother's bed), I decided to focus on more recent favorites and avoided ones I have previously mentioned like Justin Cronin's Passage trilogy or Mira Grant.
The Broken Girls by Simone St. James
Amazon | Audible | Goodreads
Vermont, 1950. There's a place for the girls whom no one wants–the troublemakers, the illegitimate, the too smart for their own good. It's called Idlewild Hall. And in the small town where it's located, there are rumors that the boarding school is haunted. Four roommates bond over their whispered fears, their budding friendship blossoming–until one of them mysteriously disappears. . . .
Vermont, 2014. As much as she's tried, journalist Fiona Sheridan cannot stop revisiting the events surrounding her older sister's death. Twenty years ago, her body was found lying in the overgrown fields near the ruins of Idlewild Hall. And though her sister's boyfriend was tried and convicted of murder, Fiona can't shake the suspicion that something was never right about the case.
When Fiona discovers that Idlewild Hall is being restored by an anonymous benefactor, she decides to write a story about it. But a shocking discovery during the renovations will link the loss of her sister to secrets that were meant to stay hidden in the past–and a voice that won't be silenced. . . .

The Broken Girls was a surprise with some really fantastic creep-factor. Told both the present and the past you won't soon forget Idlewild Hall.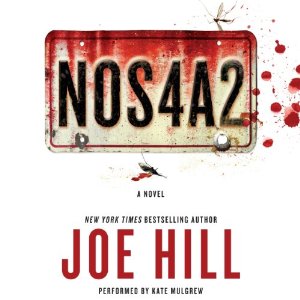 NOS4A2 by Joe Hill
Amazon | Audible | Goodreads
NOS4A2 is a spine-tingling novel of supernatural suspense from master of horror Joe Hill, the New York Times bestselling author of Heart-Shaped Box and Horns.
Victoria McQueen has a secret gift for finding things: a misplaced bracelet, a missing photograph, answers to unanswerable questions. On her Raleigh Tuff Burner bike, she makes her way to a rickety covered bridge that, within moments, takes her wherever she needs to go, whether it's across Massachusetts or across the country.
Charles Talent Manx has a way with children. He likes to take them for rides in his 1938 Rolls-Royce Wraith with the NOS4A2 vanity plate. With his old car, he can slip right out of the everyday world, and onto the hidden roads that transport them to an astonishing – and terrifying – playground of amusements he calls "Christmasland."
Then, one day, Vic goes looking for trouble—and finds Manx. That was a lifetime ago. Now Vic, the only kid to ever escape Manx's unmitigated evil, is all grown up and desperate to forget. But Charlie Manx never stopped thinking about Victoria McQueen. He's on the road again and he's picked up a new passenger: Vic's own son.
One of my favorite horror books, Nos4A2 is a suspenseful, twisted tale that you won't be able to set down. I can still see and hear Charles Talent Manx and his 1938 Rolls-Royce Wraith when I close my eyes. I listened and Kate Mulgrew  about blew my mind with narration.  Interesting side note for the slightly twisted -this makes a horrific holiday novel!
The Harvesting by Melanie Karsak
Amazon | Audible | Goodreads
It's all fun and games until someone ends up undead.  Though Layla reluctantly returns home to rural Hamletville after a desperate call from her psychic grandmother, she could never have anticipated the horror of what Grandma Petrovich has foreseen. The residents of Hamletville will need Layla's help if they are to survive the zombie apocalypse that's upon them. But that is not the only problem. With mankind silenced, it soon becomes apparent that we were never alone. As the beings living on the fringe seek to reclaim power, Layla must find a way to protect the ones she loves or all humanity may be lost.

If your idea of horror involves zombies, you are in for a treat. The Harvesting offers a suspenseful, bloody and terrifying tale. The series is stellar with twists into fantasy but this author is brilliant.
The Outsiders by Stephen King
Amazon | Audible | Goodreads
An unspeakable crime. A confounding investigation. At a time when the King brand has never been stronger, he has delivered one of his most unsettling and compulsively readable stories.
An eleven-year-old boy's violated corpse is found in a town park. Eyewitnesses and fingerprints point unmistakably to one of Flint City's most popular citizens. He is Terry Maitland, Little League coach, English teacher, husband, and father of two girls. Detective Ralph Anderson, whose son Maitland once coached, orders a quick and very public arrest. Maitland has an alibi, but Anderson and the district attorney soon add DNA evidence to go with the fingerprints and witnesses. Their case seems ironclad.
As the investigation expands and horrifying answers begin to emerge, King's propulsive story kicks into high gear, generating strong tension and almost unbearable suspense. Terry Maitland seems like a nice guy, but is he wearing another face? When the answer comes, it will shock you as only Stephen King can.

While this wasn't super scary, the Outsider does offer plenty of shivers as a man is accused of a heinous murder.  His DNA is all over the crime scene,  even though he was out of town. I listened to this earlier this year and loved the old King feel this novel had. Will Patton narrated and does a phenomenal job.
The Hallowed Ones by Laura Bickle
Amazon | Audible | Goodreads
If your home was the last safe place on earth, would you let a stranger in? 
In this captivating thriller, an Amish settlement is the last safe haven in a world plagued by an unspeakable horror… Katie is on the verge of her Rumspringa, the time in Amish life when teenagers are free to experience non-Amish culture before officially joining the church. But before Rumspringa arrives, Katie's safe world starts to crumble. It begins with a fiery helicopter crash in the cornfields, followed by rumors of massive unrest and the disappearance of huge numbers of people all over the world.
Something is out there…and it is making a killing. Unsure why they haven't yet been attacked, the Amish Elders make a decree: No one goes outside their community, and no one is allowed in. But when Katie finds a gravely injured young man lying just outside the boundary of their land, she can't leave him to die. She refuses to submit to the Elder's rule and secretly brings the stranger into her community—but what else is she bringing in with him?

A terrifying novel set within an Amish settlement, The Hallowed Ones delivered from fear-factor to characters survival. I will warn you that this is only the first book in a duology, so you might want to grab The Outside as well.
Other Books to Consider
Do you read or listen to spooky novels? What is one of your favorites?
[bctt tweet="Caffeinated Recommends Spooky Books/Listens to read by Flashlight. #horror #ghosts #suspense" username="kimbacaffeinate"]