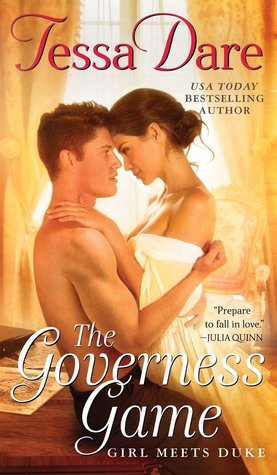 The Governess Game
by Tessa Dare
Series: Girl Meets Duke #2
Genres: Historical Romance
Source: Publisher
Purchase*: Amazon *affiliate
Rating:

Heat Level:
He's been a bad, bad rake—and it takes a governess to teach him a lesson

The accidental governess

After her livelihood slips through her fingers, Alexandra Mountbatten takes on an impossible post: transforming a pair of wild orphans into proper young ladies. However, the girls don't need discipline. They need a loving home. Try telling that to their guardian, Chase Reynaud: duke's heir in the streets and devil in the sheets. The ladies of London have tried—and failed—to make him settle down. Somehow, Alexandra must reach his heart . . . without risking her own.

The infamous rake

Like any self-respecting libertine, Chase lives by one rule: no attachments. When a stubborn little governess tries to reform him, he decides to give her an education—in pleasure. That should prove he can't be tamed. But Alexandra is more than he bargained for: clever, perceptive, passionate. She refuses to see him as a lost cause. Soon the walls around Chase's heart are crumbling . . . and he's in danger of falling, hard.
A feisty heroine, a troubled, soon to be Duke, and two orphaned girls made The Governess Game by Tessa Dare an addictive, swoon-worthy edition to the Girl Meets Duke series. Pirates, malaise, and lessons aided in delivering a heartwarming tale that left me wishing Tessa Dare released a new book every month. A girl can dream right?
I love strong, independent and feisty heroines and Alexandra Mountbatten was positively delightful. Alex, loves books, stars and by daydreams of one day owning her own cottage. By night, she dreams of a green-eyed gentlemen who literally knocked her off her feet.
Chase Reynaud, next in line to a dukedom, finds himself the guardian of two young girls. He has hired and lost an ungodly amount of governesses when Alexandra Mountbatten gives him a set down and he immediately hires hers. The events that unfold had me reading their story in just two sittings.
Daisy and Rosemonde, Chase's young wards, were positively delightful and enhanced the story on so many levels. Morbid, hurt, fearful and determined these young ladies gave Alex quite the ride. I fell in love with them right along with Alex. And Millicent, the poor doll of a thousand deaths. Oh my. A few scenes had me giggling aloud. Dare shared brilliant one-liners and referenced a few things that pushed this story over the top. I think this is my favorite Dare book.
Heated and filled with deliciously swoon-worthy moments, their romance felt genuine. Sure, Chase is a lunkhead, but Dare allows us to see the man beneath the aloof exterior. I loved how strong and independent Alex was. While the story was predictable, it left me giddy and delivered that book high I am forever chasing.
I cannot wait for the next book. I weep knowing it will probably be a year before a new book is in my hands. If you want a story filled with humor, heat, swoons and more you'll want to grab a copy of The Governess Game today. I know this will earn a spot in Caffeinated's Top Ten Romances for 2018.
If you want a story filled with humor, heat, swoons and more you'll want to grab a copy of The Governess Game by Tessa Dare #historical #romance #mustread #NewRelease
Click To Tweet
Reading this book contributed to these challenges:
Related Posts