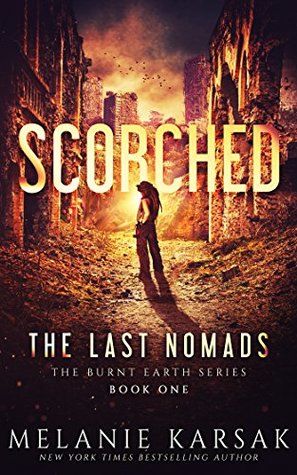 Scorched: The Last Nomads
by Melanie Karsak
Series: Burnt Earth #1
Genres: Post-Apocalyptic
Source: Purchase
Purchase*: Amazon *affiliate
Rating:
Every day, I pray my sister survived the wasteland--and that the bond between us will be enough for me to find her.

One hundred and sixty-seven years ago, a solar coronal mass ejection devastated civilization. In the blink of an eye, technology died. Destroying the grid might not have brought about our end, but the solar superstorm blighted the land and made us sick. After the crisis, lawlessness ruled, and societies fell. This is the hellish world my sister Ash and I grew up in. If it's not the landscape trying to kill you, the wailers who roam the wasteland at night will.

Now our home, The Park, teeters on the brink of extinction. When the annual shipment of supplies from Low Tide outpost failed to arrive, my sister led a small scouting party to find out what happened.

But she never came back. No one did.

I can either hope for a miracle or mourn her for dead. I can't live with either option. The elders won't let me leave. But nothing will keep me from Ash. The unexpected arrival of The Dead Troupe--part-nomads, part-performers--offers an unexpected opportunity to find her.

Now I just need to survive the sunburnt earth where the wailers roam and none but the Dead Troupe survive.
I loved the Harvesting and Airship Racing Chronicle so when I saw that Scorched: The Last Nomads by Melanie Karsak was the first in the Burnt series I had to grab it. Karsak introduces us to a post-apocalyptic world ravaged by a solar event that devastated civilization one hundred and sixty years ago. A fascinating teaser into this world and its characters, I cannot wait to learn more.
The World: The world we now know fell after a solar coronal mass ejection devastated civilization. The grid collapsed, and many succumb to sickness during solar storms.  Most died, but some turned into beasts. Ash and her sister refer to them as Wailers. Pockets of humans live in walled or protected communities. Resources are scarce, and travel between the colonies is dangerous. Karsak does a splendid job bringing this desolate world to life. Our story begins in a community known as The Park, where Keyes is anxiously awaiting the return of her sister, Ash, who left with a party to gather essentials from Lowtide. Without those supplies, The Park is in danger, and Keyes cannot live without her sister.
Characters: The story told from Keyes perspective pulls the reader in, and right away I connected with this determined and resilient young woman. She is bright, and a bit of a geek. She tinkers with old motorcycles, fixes solar panels, and invents things to help the community. We meet leaders and other residents, as well as members of the Dead Troupe, a caravan of traveling nomads. This group hasn't been to the Park for over six years, but offer information and an opportunity for Keyes to hunt for her sister.
The story: At, 143 pages Scorched is longer than a typical novella, giving us a glimpse into this world, and characters, as it presents threats and hints at romance. It was an addictive, well-paced story that left me eager for the next book. We travel with the Dead Trope and Keyes. Karsak shares Keyes strengths and skill as they move toward the Lowtide settlement. We explore, face danger and get to know the members of this traveling group. We learn about communities and risks beyond the Park. The ending answers questions about Ash, and sets up the direction of the next book.
Karsak is a masterful storyteller and Scorched is a tale you'll devour.
Scorched: The Last Nomads by Melanie Karsak was a fascinating teaser into this world and its characters, I cannot wait to learn more.
Click To Tweet
Related Posts