Welcome back to Nonna's Corner. Today I am sharing the picture book A Band of Babies written by Carole Gerber and illustrated by Amy Dryer. Come with this group of nursery students as Benny leads them on an adventure.
A Band of Babies
by Carole Gerber
Genres: Childrens
Pages: 32
Source: Author
Purchase*: Amazon *affiliate
Rating:
New York Times bestselling illustrator Jane Dyer teams up with award-winning author Carole Gerber to lead a band of marching babies all through town.

It was just an ordinary day at play group until Benny arrived. With flute in hand and drums in tow, Benny's love of music inspires the babies to get up and put on a show. Toot! Toot! Whee! Benny and his band of babies are a sight to see!

With rhythmic text from veteran author Carole Gerber and lively illustrations from bestselling artist Jane Dyer, this musical journey will have readers of all ages snapping their figures and tapping their toes! (
A Band of Babies offers a rhythmic tale about a group of nursery children who follow a charismatic young child named Benny as he leads them on an adventure beginning with a marching band. He leads them to the local grocer where they create quite the commotion. Spilled fruit, unraveled rolls of toilet paper, giggles and more before Benny leads them all safely to the nursery for a nap.
The verse is clever and at first, I worried about these unsupervised toddlers, but the pastel illustrations show us a harried worker following the group. Princess Sophia and Clayton liked the verse well enough, and the mess at the grocer provided a giggle. The illustrations are beautiful, but their gentle and soothing qualities don't quite match up to the vibrant texts.
Age Range: 4 – 8 years
Grade Level: Preschool – 3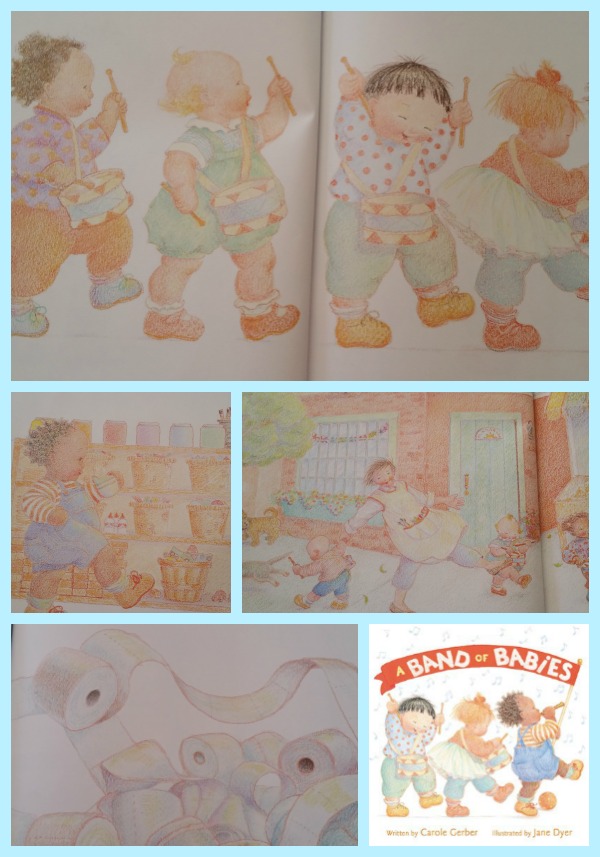 *Please check your blog's spam folder. Yesterday I changed my username to Kimberly @ Caffeinated Reviewer and ALL of my comments on  WordPress blogs I visited went to SPAM. Ugh. 
Related Posts