Welcome to Nonna's Corner. Today I am sharing the picture book HATTIE PECK: THE JOURNEY HOME written and illustrated by Emma Levey. Come along as Hattie sends her beloved children out on their own. This touching tale about family, decisions, letting go, and differences will make a worthy addition to your child's bookshelf. I think you'll love the ending.
Hattie Peck: The Journey Home
by Emma Levey
Genres: Childrens
Pages: 32
Source: Publisher
Purchase*: Amazon *affiliate
Rating:
Hattie Peck adores eggs of all kinds. However, she cannot make any of her own. No worries—Hattie has collected eggs from all over the world, hatched them, and raised her blended family of cockatoos, storks, owls, anything from an egg—even reptiles.

But now it's time. They all need to leave her big loving nest.
So off the flock goes, on their biggest—and saddest—adventure. Even though, in her heart, Hattie knows it's best.

A poignant story about family and differences, making hard decisions, letting go and inclusion. It's not all sad, though, due to a nice twist ending as in the first book.

Bright colorful and lively illustrations and lots of information about egg-bearing animals round out the story.
I didn't realize this was the second book about Hattie Peck. The first is HATTIE PECK, and in that novel, she gathers her diverse family. However, this works completely on its own. Hattie is unable to have children of her own, but she loves eggs and brings abandoned eggs home to hatch. This results in a unique family from snakes to swans. The author shares their lives from bedtime routines to special holidays. Her most favorite of all is their birthdays and she knits each a special gift. After many years her children are grown and it is time for them to leave the nest. So she packs them all up, and we begin a journey to set them free. The colorful illustrations shared their journey before Hattie once again returned home. It was sad for Haddie, but the ending will make you and yours smile.
I loved the diversity within in HATTIE PECK: THE JOURNEY HOME, and the subtle sharing that families can be different. The book hits on topics such as family, decisions, loss and our own unique differences.
Age Range: 3 – 6 years
Grade Level: Preschool – Kindergarten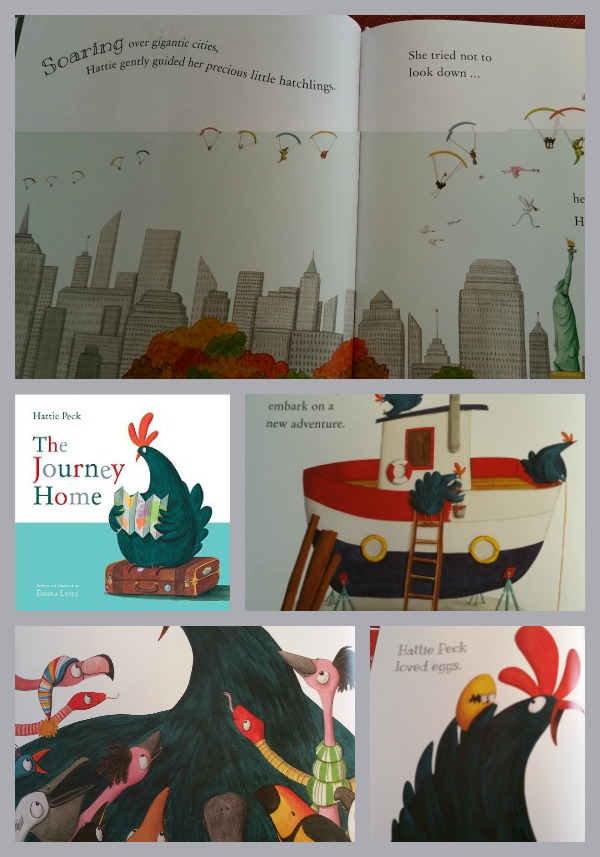 [bctt tweet="Hattie Peck: The Journey Home by Emma Levey shares family, letting go and diversity #children" username="kimbacaffeinate"]
Related Posts