Today on Nonna's Corner I am delighted to share The Thank You Book by Mo Willems. I was leading a Bloggercon roundtable at BEA when the ticketed signing  for this took place. Berls @ Fantasy is More Fun, loves Mr. Willems and graciously stood in line to get a signed copy for Princess Sophia.  While this book is geared towards readers aged 4-8 and is perfect for grades 1-3, Sophia and I enjoyed the antics of Elephant and Piggie.
The Thank You Book
by Mo Willems
Series: Elephant & Piggie #25
Genres: Childrens
Pages: 64
Source: BEA
Purchase*: Amazon *affiliate
Rating:
Gerald is careful. Piggie is not.
Piggie cannot help smiling. Gerald can.
Gerald worries so that Piggie does not have to.

Gerald and Piggie are best friends.

In The Thank You Book!, Piggie wants to thank EVERYONE. But Gerald is worried Piggie will forget someone . . . someone important.
The first sentence of The Thank You Book by Mo Willems is from Piggie who says, "I have a lot to be thankful for…I had better get thanking!" And thus begins the story of Piggie thanking all of his friends. At the same time Gerald the Elephant worries over Piggie forgetting someone. The more folks Piggie thanks the more convinced Gerald is that Piggie will forget someone. I loved the little twist at the end, and the message Piggie and Elephant share with young readers. While younger readers will appreciate the illustrations, as they age they will giggle over Elephant's worries, reflect on their own thankfulness and get caught up with Elephant.  Aside from the message one of the things I like are the simple sentences that allow young readers to learn, mimic and then read the pages within.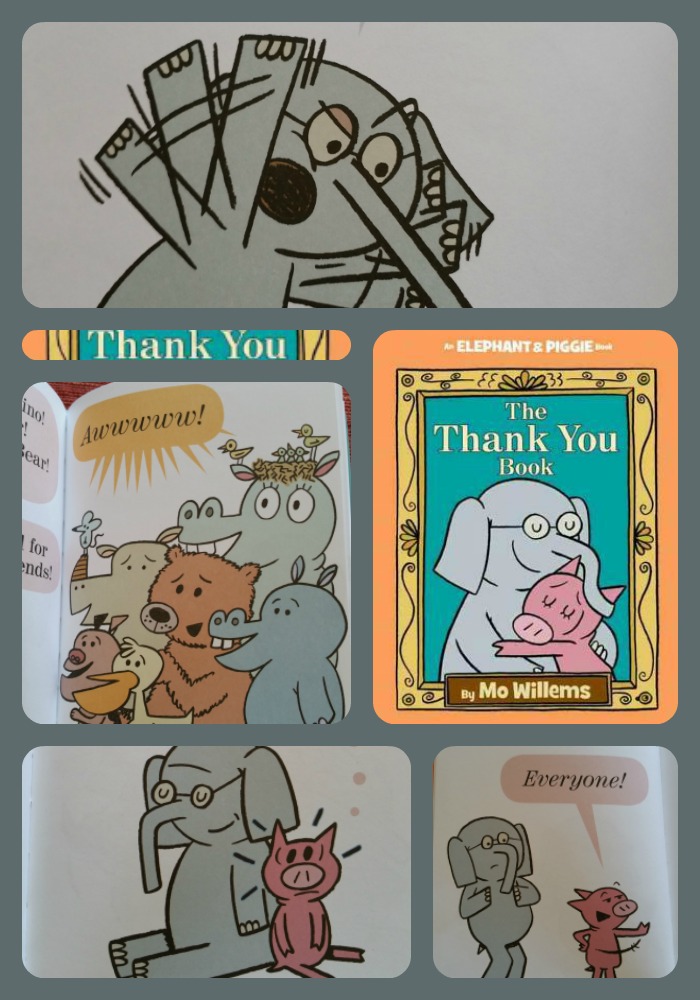 Piggie thanks everyone in The Thank You Book By Mo Willems
Click To Tweet
Related Posts