Today I am delighted to share the second book that came in the box of children's books from Penguin. Hoot and Peep by Lita Judge is an adorable story about siblings who are different. Sophia and I loved the colorful illustrations and sweet story. Enjoy one of the cookies we baked and grab a cup of joe.
Hoot and Peep
by Lita Judge
Genres: Childrens
Pages: 40
Source: Gifted
Purchase*: Amazon *affiliate
Rating:
In the night skies above Paris, an adorable young owl teaches her older brother about the power of imagination—and the unconditional love between siblings

Hoot the owl is very excited for his little sister, Peep, to join him on the cathedral rooftops. She's finally old enough to learn all his big brother owly wisdom: First, owls say hooo. Second, they always say hooo. Lastly, they ONLY say hooo! But why would Peep say hooo when she could say schweeepty peep or dingity dong? Why would she speak when she could sing? As she explores the breathtaking Parisian cityscape, Peep discovers so many inspiring sights and sounds—the ring of cathedral bells, the slap of waves on stone—that she can't help but be swept up in the magic of it all. Hoot doesn't understand Peep's awe, until he takes a pause to listen . . . and realizes that you're never too old to learn a little something new.

From the beloved author/illustrator of the classic picture book Red Sled , this gorgeous read aloud celebrates the wonder found in little things—and in the hearts of dreamers, young and old.
Isn't the cover of Hoot and Peep adorable? Hoot and Peep by Lita Judge is beautifully illustrated and shares the story of the first night Peep is finally old enough to go to the rooftop with her older brother Hoot. This oversized hardcover contains 40 pages and takes us to the roof tops, bell towers and buildings of a quaint London town.  Peep is in awe and is soon singing about the stars and sky, but Hoot wishing to impart his owly wisdom tells her she is singing wrong, "Owls say hooo." Hoot becomes more angry as Peep tweets and chirps.  Peep flies away chirping her melody, mimicking sounds of the city. Hoot soon realizes he misses his sister's singing. With cute images and a delightful message Sophia and I enjoyed the tale. Siblings, being different, acceptance and love are all important messages slipped into this enchanting tale. Sophia loved the sounds Peep made and we had fun getting animated as we read. She is particularly found of the mice we encountered.
Age Range: 3 – 5 years
Grade Level: Preschool – Kindergarten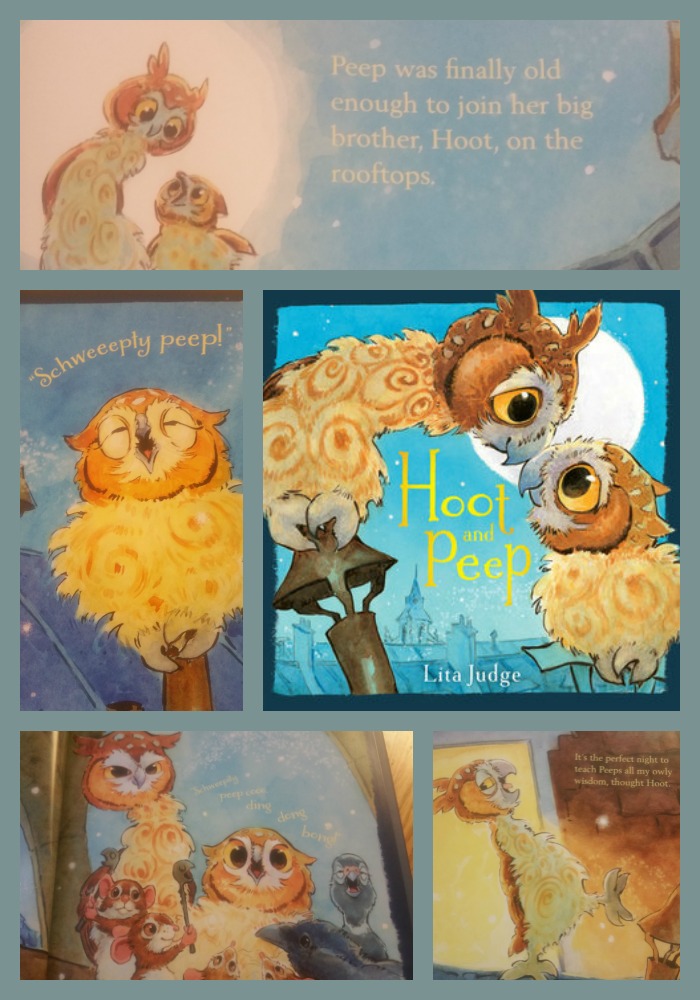 [bctt tweet="It's ok to be different. Caffeinated and Sophia review Hoot and Peep by Lita Judge #picturebook" username="kimbacaffeinate"]
Related Posts