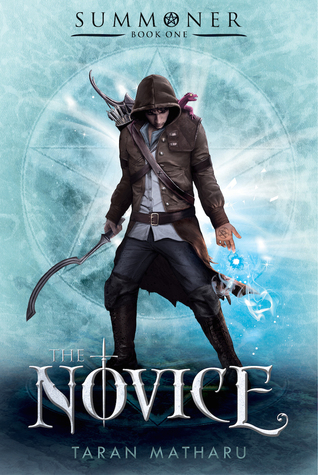 The Novice
by Taran Matharu
Series: Summoner #1
Genres: Fantasy
Source: Publisher
Purchase*: Amazon *affiliate
Rating:
When blacksmith apprentice Fletcher discovers that he has the ability to summon demons from another world, he travels to Adept Military Academy. There the gifted are trained in the art of summoning. Fletcher is put through grueling training as a battlemage to fight in the Hominum Empire's war against orcs. He must tread carefully while training alongside children of powerful nobles. The power hungry, those seeking alliances, and the fear of betrayal surround him. Fletcher finds himself caught in the middle of powerful forces, with only his demon Ignatius for help. As the pieces on the board maneuver for supremacy, Fletcher must decide where his loyalties lie. The fate of an empire is in his hands. The Novice is the first in a trilogy about Fletcher, his demon Ignatius, and the war against the Orcs.
The Novice by Taran Matharu is the first in the Summoner series and one readers will enjoy. From the stunning cover to the supernatural creatures this young adult fantasy delivered. I will warn you the cliffy is draw dropping but I promise this one is not to be missed.
First line: IT WAS NOW OR NEVER. If Fletcher didn't make this kill, he would go hungry tonight. Dusk was fast approaching and he was already running late. He needed to make his way back to the village soon, or the gates would close. If that happened, he would either have to bribe the guards with money he didn't have or take his chances in the woods overnight.
Five reasons to drop everything and read The Novice
I love a good fantasy particularly when the world and characters draw me in. Matharu's tale grabbed me from page one with its Middle Earth Harry Potter vibe. Toss in magical creatures from the cute to the downright ugly, add a few Elves, Dwarfs, Demons and Humans, and you have the makings of a cool fantasy.
Our protagonist is an orphaned boy who was taken in by a blacksmith in the village of Pelt. Bullied by the town's wealthy children and one snot-head in particular he is a likable character from the onset. By accident and curiosity, Fletcher discovers he has the ability to summon demons from the Ether. An encounter with the local bully has him fleeing his home and fate has him attending the Adept Military Academy. Here he will train and learn the skills necessary to become a Summoner.
The world has a Middle Earth vibe and it made me giddy. How demons are summoned reminded me of Lord of the Rings with its use of mana to summon their companion demons. Each Summoner has levels and this determines the type and quantity of demons they can possess. Sings "Gotta catch um all!" Yep, reminded me of Pokémon. We have feuds, alliances, social classes and power hungry nobles. The Orcs are winning the war and more Summoners are needed to stop them. This war has been going on for over three hundred years. Despite familiarity  Matharu made it his own. Easy to read and evenly paced this is a great crossover book for non-fantasy fans looking to dabble. Twist, turns and power struggles kept me enthralled.
I mentioned Harry Potter the academy brought forth those vibes from classrooms on demonology to casting spells and entering the Ether. The professors are odd ducks, and we even have an arse who does not like muggles, I mean commoners. Fletcher quickly befriends others and I enjoyed the different students and their different demons. The noble students were kind of cliché with their "we rule, you drool" attitude but each had distinct enough personalities.
The Novice was such a fun read and I consumed it in just two sittings. This book originally published on Wattpad and over six millions folks read and loved the book. It is easy to see why. I will warn you once again the ending was climatic. Just when we were cheering Mathura dropped us a curve-ball that had my jaw dropping and my blood boiling. *shakes fist* There was a prequel, which I would love to read for the history of this world and hope Macmillan makes it available soon. In the meantime, I will be awaiting news of book two!
Quotes
"What have we told you dwarves about carrying weapons in public? Why can't you get it through you thick, dwarven skulls? Only humans have that privilege!"
"I could do with one of those flying lights right now, don't you think, Ignatius?" he whispered.
The shadows shifted unnaturally as he moved down the corridor, the dark slits of every suit of armor staring at him as he walked past.
It seemed odd that whoever was ahead was moving so quickly, their pace closer to a jog than a midnight stroll. Fletcher hurried to keep up, his curiosity getting the better of him. Even when he reached the atrium, all he could perceive was the dim light and a swish of cloth as a figure darted out through the main entrance.
"If it wasn't for the summoners, we would be in serious trouble."
Related Posts