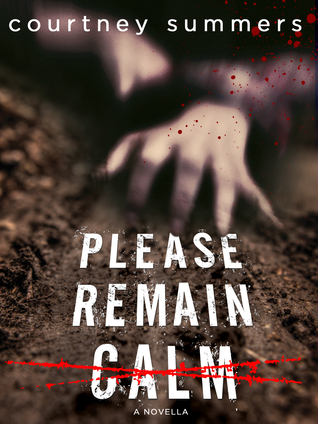 Please Remain Calm
by Courtney Summers
Series: This is Not a Test #2
Genres: Horror
Source: Purchase
Purchase*: Amazon *affiliate
Rating:
In this gripping sequel to THIS IS NOT A TEST, Rhys and Sloane are headed for a safe haven when they get separated along the way. Rhys is determined to reunite with Sloane until he discovers people who might need him more--people who offer him the closest he'll get to everything he's lost, if they can just hold on long enough.  Rhys thinks he has what it takes to survive and find the girl he lost, but in a world overrun by the dead, there are no guarantees and the next leg of his journey will test him in unimaginable ways ...
I love zombies, and Courtney Summers thrilled me in This is Not a Test, so when I learned that the sequel, Please Remain Calm was being released I squealed. Gripping, intense and oh lord I want more, Please Remain Calm satisfied by zombie fix on so many levels.
Espresso Review of Please Remain Calm
Please Remain Calm is told in Rhys perspective and picks up right where This is Not a Test ended. He and Sloane are escaping and heading toward a safety. They have his Dad's car and a crowbar.
Summers knows how to build suspense , deliver a tale, and she quickly drew me in. Narrow escapes, panic and deadly twists will have you holding your breath. I liked getting Rhys perspective and when he and Sloane are separated, I feared the worse. Summers' introduces new characters and despite being only ninety-six pages, she managed to flesh them out and have me invested. There were moments that had me cringing, crying and sitting staring at the pagees slacked jawed.
The zombies and danger at every turn had my heart racing. The tale managed to pull at my heartstrings too as I became attached. Do not become attached! Summers' manages to give me one heck of a ride every time we get together. The ending made me scream. *I mean out loud- the kind that makes my hubby come running to see if I am OK.* Yes it wrapped up, but OMG. I want more. I loved it and hated it, I really did. Fans of Mira Grant will love the This is Not a Test series.
I am desperately hoping Summers and St. Martin Press give us more installments. Please Remain Calm will work as a standalone. But where is the fun in that?
Related Posts