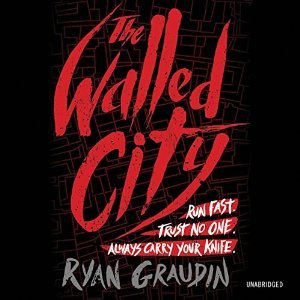 The Walled City
by Ryan Graudin
Narrator: Eugene Kim, Janet Song, Kim Mai
Length: 10 hrs and 28 mins
Genres: Dystopian, Science Fiction
Source: Publisher
Purchase*: Amazon | Audible *affiliate
Rating:

Narration: 4.5 cups
There are three rules in the Walled City: Run fast. Trust no one. Always carry your knife. Right now, my life depends completely on the first. Run, run, run. Jin, Mei Yee, and Dai all live in the Walled City, a lawless labyrinth run by crime lords and overrun by street gangs. Teens there traffic drugs or work in brothels - or, like Jin, hide under the radar. But when Dai offers Jin a chance to find her lost sister, Mei Yee, she begins a breathtaking race against the clock to escape the Walled City itself.
I was intrigued by the premise of The Walled City by Ryan Graudin and when an opportunity to review the audio edition presented itself, I jumped. Powerful, beautifully written and compelling this story kept me up until the wee hours of the morning.
Five Caffeinated reasons to listen to The Walled City
The Walled City is a modern day dystopian thriller based in part on the actual "walled city" of Kowloon. While, the author has taken some liberties she beautifully captured this dark city in Hong Kong. The writing is beautiful despite the darkness and at times almost lyrical. She beautifully captures the mannerism of the characters from personality to culture.
The story is told from three narratives. We have Mei Yee, a young woman who is sold by her father into a brothel. Next, we have Dai, a boy from a family of wealth who hides within the Walled City and seeks a chance at redemption. The last voice and my personal favorite belongs to that of Jin Ling. The sister of Mei Yee, she hides in the streets of the Walled City as a young boy and searches to free her sister. Each character is fleshed out and as the story progresses we see a connection form and tighten between the three. It was brilliant and captivating. The narrators for the audio were superb and captured each character's personality and emotions adding an extra layer of enjoyment.
The Walled City itself is a living breathing character and reeks of brothels, drug lords, and poverty. Hunger and power rule here. It is the darkest aspect of humanity and one most turn a blind eye too…. to look almost painful. Graudin brought the city to life. I could see the buildings stacked as they robbing the inhabitants of fresh air and light to life. As I listened, I could close my eyes and see, taste and smell the city, the fear, and the desperation.
There is a romance in the Walled City and it developed slowly and beautifully. It certainly was not the focus, but its tender threads weaved into the story giving the listener hope and a glimpse of something light. It felt genuine and had all the feels while being understated and richly satisfying.
The storyline and the way in which Graudin weaved the three character's together held me captive. At ten hours and twenty-eight minutes in length, I could not seem to stop listening and consumed this in less than a day. Sometimes when dealing with multiple pov's I find myself annoyed when taken from one and moved into the other, but with the Walled City each storyline carried weight and was compelling. The story was suspenseful, emotional and felt refreshing original in a sea of similarity within the genre. As their timelines intertwined the climatic scenes had me holding my breath.
 "I don't want to tell this boy my name. Too many people have stolen it, used it in ways I never intended. You never know what a fragile thing a name is until it's used as a weapon, screamed like a curse."-Mei Yee
 "I don't believe in ghosts. Not like my grandmother, who knelt at our ancestral shrine every dawn with smoking sticks of incense folded in her palm and offerings of rice liquor and oranges tucked in her pockets. I always thought it was stupid, wasting fruit and good booze on the dead. Those who were long silent and gone. He haunts me anyway."-Dai
 "I can stab a man, but I can't let one die. Not on my watch."-Jin Ling
The Walled City audio edition was pure perfection for me. Addictive, intense, and captivating. It was masterfully done and original. The narrators Eugene Kim, Janet Song and Kim Mai enhanced my experience and brought the characters to life.
Related Posts