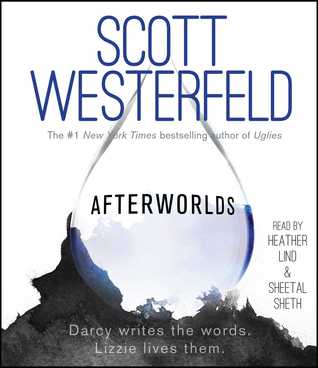 Afterworlds
by Scott Westerfeld
Narrator: Heather Lind, Sheetal Sheth
Length: 15 hrs and 13 mins
Genres: Fantasy, Paranormal
Source: Publisher
Purchase*: Amazon | Audible *affiliate
Rating:

Narration: 3 cups
Darcy Patel has put college and everything else on hold to publish her teen novel, Afterworlds. Arriving in New York with no apartment or friends she wonders whether she's made the right decision until she falls in with a crowd of other seasoned and fledgling writers who take her under their wings… Told in alternating chapters is Darcy's novel, a suspenseful thriller about Lizzie, a teen who slips into the 'Afterworld' to survive a terrorist attack. But the Afterworld is a place between the living and the dead and as Lizzie drifts between our world and that of the Afterworld, she discovers that many unsolved - and terrifying - stories need to be reconciled. And when a new threat resurfaces, Lizzie learns her special gifts may not be enough to protect those she loves and cares about most.
I was so excited when I received an audio copy of Afterworlds by Scott Westerfeld. The synopsis intrigued me, and I dove into the audio with such anticipation. Despite a stellar performance by narrators, Sheetal Sheth, and Heather Lind, the overall stories feel flat for me, making the story unmemorable.
Caffeinated Aspects:
Afterworlds is delivered in two parts and we navigate between them. The first is that of Darcy Patel a seventeen-year-old writer who puts of college to go to New York after landing a publishing deal for her novel Afterworlds. Can you see the appeal? Life as a writer in the Big Apple. Yep, I was excited and curious. The second part is Darcy's novel Afterworlds.*when referring to Darcy's book I will make the title bold*  Afterworlds is a suspenseful paranormal thriller that takes place in the world between the living and the dead. Creep-tastic right?
Darcy was genuinely portrayed, despite having written a novel in 30 days and selling it to a publisher. *every writers dream* Westerfeld made her experiences both as new writer and those of a young woman starting out in the big city feel surreal. Her feelings and insecurities are those I am sure every new writer feels.
In Afterworlds Darcy's story, we get essentially a ghost story, with some insta-love. I thought some of the concepts; especially the twisted paranormal aspects were interesting. Westerfeld introduced some new paranormal characters in this land of the dead. I personally thought the ghost Lizzie befriends in her home was the most interesting character in the entire book.
Scott Westerfeld is talented, and brought the worlds to life. Even though I did not connect with this tale, I will gladly try another work by him.
Sheetal Sheth and Heather Lind were solid narrators making the stories easy to listen.
Decaffeinated Aspects:
While both stories had aspects that appealed to me, and I certainly had no trouble, finishing the novel I never became caught up in the story. I love when I slip into the world, connect with the characters and lose track of time. Sadly, I never achieved that nirvana with Afterworlds. When I finished I scratched my head and questioned, "What was the point?"
The tale transitions well between stories and if I had to choose between the two, Afterworlds with Lizzie was far more interesting. Which surprises me because it took me a long time to connect with Lizzie.
We get an LGBT romance in NY with Darcy, but because of the two stories, we never really get a chance to connect with Darcy and her love interest. The romance in Darcy's novel Afterworlds was complete insta-love and never fully developed.
While Afterworlds offered a unique concept, I think it would have been better to create two separate fleshed out, and full developed novels. A duology perhaps? Afterworlds may not have worked for me, but with an average 3.76 rating on Goodreads, I encourage you to read a few more reviews.
Related Posts