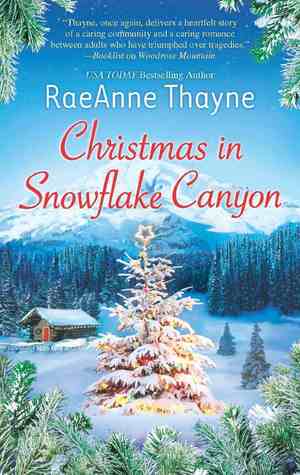 Christmas in Snowflake Canyon
by RaeAnne Thayne
Series: Hope's Crossing #6
Genres: Contemporary Romance
Source: Publisher
Purchase*: Amazon *affiliate
Rating:
Holiday gifts don't always come in expected packages... especially in the town of Hope's Crossing. No one has ever felt sorry for Genevieve Beaumont. After all, she has everything money can buy. That is, until she discovers her fiancé has been two-timing her and she's left with two choices: marry the philanderer to please her controlling father or be disinherited and find a means to support herself. Genevieve's salvation appears in the most unlikely of prospects: Dylan Caine, a sexy, wounded war vet whose life is as messy as hers. Dylan's struggling to adjust after his time in Afghanistan, and the last thing he needs is a spoiled socialite learning about the real world for the first time. True, she may have unexpected depths and beauty to match. But he knows he could never be the man she needs…and she knows he could never be the man she thinks she wants. So why are they each hoping that a Christmas miracle willl prove them both wrong?
Christmas in Snowflake Canyon while the sixth book in the Hope's Crossing series by RaeAnne Thayne worked lovely as a standalone. Thayne delivered a heart-warming, rip your heart out and make you fall in love romance that twisted around my heart. Filled with unique characters, hope, growth and joy she made me laugh, cry and believe. Mini-review: romantic, heart warming with complicated characters you just want to embrace.
This tale takes place in the small mountain side town of  Hope's Crossing where we meet Genevieve Beaumont and Dylan Caine. Genevieve is the mayor's daughter and has earned a reputation for being a bitch and doesn't know how to change people's perception of her. Dylan is a wounded war hero who prefers solitude and has a chip on his shoulder. A crowded bar, a Mojito and a Christmas song fate these two damaged souls to spending time together and the tale that unfolds while hold you captive.
I adore fleshed out, complicated and misunderstood characters and Thayne gave me two very memorable characters in Genevieve and Dylan. Dylan is so smexy and totally not your typical hero. He is a wounded veteran, having lost vision in one eye and his left arm below the elbow. He is facing survivors guilt, esteem issues and he was just so damn sexy. He sports an eye patch and loves his dog. Gah! You will adore this complicated soul. Genevieve from the outside looks like a spoiled child of privilege, but the truth is most of her snark and attitude mask insecurities anda longing to be loved. Parents, siblings, and a few wounded veterans added to the tale making me giggle, shed a tear and swoon. A few characters made me angry at their stupid; prejudice and neglectful arrogance all of which made me flip the pages in need of my happily ever-after. The romance was complicated, sweet, and dripping with sexual tension despite the fact that this tale was squeaky clean.
Christmas in Snowflake Canyon offered so much more than a holiday romance. I loved the town of Hope's Crossing nestled in Colorado and all of the secondary characters we meet. In fact, I have added this series to my wish list and cannot wait to read them. Dylan and Genevieve were wonderfully flawed, hurt characters who see growth throughout the tale as their friendship grows and develops into something sweet and magical. It is a book about hope, second chances, depending on others and realizing one's own self-worth. I loved the facility for wounded vets, and Thayne's grasp of their inner turmoil, struggles, and their enormous courage and perseverance. Christmas in Snowflake Canyon touched me on so many levels and filled me with the magic of love, the holiday spirit and good will towards men.
If you are looking for a fresh, heart-warming, clean romance this holiday season and one that will stay with you than I recommend Christmas in Snowflake Canyon. I look forward to reading more books by RaeAnne Thayne and plan to visiting Hope's Crossing.
Four and half cups of coffee out of five

Related Posts