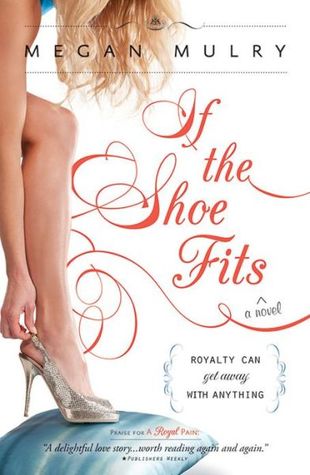 If the Shoe Fits
by Megan Mulry
Genres: Contemporary Romance
Source: Publisher
Purchase*: Amazon *affiliate
Rating:
Second in a sexy, playful new series of women's fiction imagining what it might be like for a modern American woman to fall in love with a British aristocrat, from new author Megan Mulry. Sarah James is an accomplished American woman who heads her own chic shoe company. Devon Heyworth is the rakish, ne'er-do-well younger brother of the 19th Duke of Northrop. When the two meet at the Duke's wedding they embark on a whirlwind weekend romance. And what begins as a casual fling at a royal wedding quickly proves to be far more meaningful. But when a string of misunderstandings threaten to tear them apart, their meddling aristocratic relatives join forces to reunite the star-crossed lovers
When I began If the Shoe Fits I didn't realize it was part of the Royal Pain series, but it worked well as a standalone. It is the tale of a modern-day American who falls in love with a British aristocrat.  Filled with humor, shoes, angst and a delicious romance I enjoyed this romantic tale. Three-word review: steamy, charming and entertaining.
We meet Sarah James a young successful owner of a shoe company who has dreams of having her boutiques all over the world. She is the maid of honor at her best friend's wedding who happens to be marrying the nineteenth Duke of Northrop. At the rehearsal dinner, she meets his very sexy, smooth-talking younger brother Devon Heyworth. They have a whirlwind weekend fling where they agreed to enjoy themselves, no strings attached. Well, we all know how those turn out. The tale is steamy, but as the couple discovers this isn't a fling things get complicated since these two have zero experience in the relationship department.  Devon's family and Sarah's forward-thinking Grandma step into the mix and the tale that unfolds was entertaining and at times overly complicated.
Devon is such a player, an aristocratic brat who is bloody brilliant but hides it behind a never care facade. He has never been in a committed relationship and is overwhelmed by his emotions regarding Sarah. Sarah has daddy issues, has managed to start up a successful company and has her future all laid out. Until Devon, she hasn't even considered a relationship as her business has been her only lover. I loved their interaction and their tryst. Sarah has some secrets and it leads to some mishandling of situations, misunderstandings and some hilarious moments. I really enjoyed watching these two come together and figure out their emotions. I enjoyed the other characters, especially Devon's mother, and Sarah's grandmother. Throw in a sexy American, a meddling BFF and her hubby and things get interesting.
The relationship between Sarah and Devon felt genuine and the sexual tension and steamy love scenes were hot and I found myself rooting for them. While I love angst, and twists and turns before a couple reaches their HEA, I felt some of this was overdone making me scream, "enough already!" Devon makes some serious mistakes, and the author does a good job of making us understand his actions even if they were bone-headed. Sarah was also hot and cold at times and reacted over the top since she really had no clue and missed signals. The characters were fleshed out and the tale easy to slip into.  We get some interesting back history and side stories but I found myself skimming a few times because of the unresolved angst. This is something I rarely do, which makes me believe some of the stories could have been tightening up. Or maybe I just wanted less talking and more relationship development. LOL!  Despite two many conflicts I enjoyed this tale and found myself laughing aloud and turning the pages to get my happily ever after. There is a thread regarding Devon's younger sister and the author hinted about things which have me curious and I will pick up the next book.
Fans of humor, angst,  steamy romances and shoes will find If the Shoe Fits to be an entertaining read.  A Royal Pain is the first tale and features Devon's older brother Max and Sarah's BFF Bronte. R is for Rebel is the third book and releases in November.
Related Posts