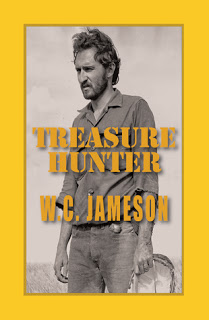 Treasure Hunter
Genres: Non-Fiction
Source: Publisher
Rating:
"There are not many left, we dreamers and wanderers...We are a breed of men addicted to danger, adventure, and the quest." Thus begins W.C. Jameson's account of one intrepid man's efforts to find the lost treasures of North America and beyond. Jameson and his partners piece together centuries-old histories through documents, maps, and stories passed down from one generation to the next, facing life-threatening danger time and again. These riveting stories, told with humor and candor, are a portal to another time, and are a testament to the spirited independence of risk-takers, a few of whom still exist in what we think of as the modern age.
Treasure Hunter by W.C. Jameson is a fascinating look at the adventures of a modern-day treasure hunter. I have always enjoyed watching and reading about history, conspiracies, mysteries and lost treasure.This book contains all of these elements. This memoir offers a close hand look at the challenges, danger, and excitement that treasure hunters face.
W. C. Jameson's is an award-winning author with an impressive biography. He has over 70 books, 1500 essays and 300 songs published. He consulted for the television show Unsolved Mysteries and was an advisor for the film, National Treasure. He has been interviewed by the History Channel, PBS, Travel Channel and Dateline. The list of credits to his name is impressive. I would love to sit down and have a drink with this man; just think of the stories he could share.
In his memoir Treasure Hunter, Jameson shares with us his treasure hunting adventures. I absolutely immersed myself in this memoir. Jameson's writing style grabs you from page one. I immediately felt like I was a part of his posse in search of lost treasure. Each chapter depicts a specific quest and the events that occurred. Jameson and his team have been shot at, bitten, threatened and have looked death in the eye. The wealth they obtained and the treasure they sometimes were forced to leave behind was fascinating. The bits and pieces of history entwined in the stories were interesting and I found myself sharing these adventures with my family and friends.
One of my favorite chapters was Guadalupe Mountain Gold. Jameson shares with us his first treasure hunt. He conveys the tale in such a way, that you can feel yourself lying there with him between the strawberries bushes, climbing the hills and getting up close and personal with a snake. Another adventure I enjoyed was The Curse. Jameson shares details about a group of young men who found a cave with stacks of gold bars. The three men became violently ill. Two of them ended up dying. The third convinced of a curse shared these details with Jameson. Jameson and his friends set out to find the site and the tale that unfolds will mesmerize you. I actually read this one aloud to my eighteen-year-old son, and he sat captivated by this tale.
Treasure Hunter delivers history, adventure and a glimpse at the man who loves the quest, perhaps more than the treasure. I highly recommend Treasure Hunter to fans of quests, mysteries, history, and adventure. I encourage you to check out more of W.C. Jameson's work. Treasure Hunter is the perfect coffee table book; as each tale can be read in one sitting. This would also make a great gift for non-fiction readers on your holiday shopping list.
Related Posts