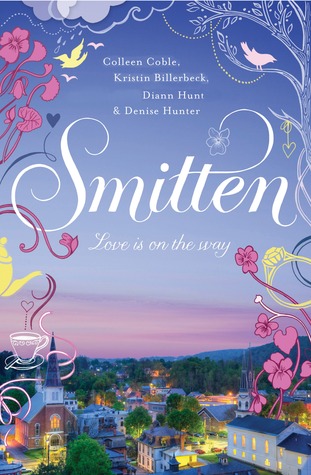 Smitten
by Colleen Coble, Kristin Billerbeck
Series: Smitten #1
Genres: Contemporary Romance
Source: Publisher
Rating:
Four friends devise a plan to turn Smitten, Vermont, into the country's premier romantic getaway-and each finds her own true love along the way. With Smitten Lumber closing, residents wonder if their town can stay afloat. Then four friends and local business owners-Natalie, Julia, Shelby, and Reese--decide the town is worth saving. How will they do it? They'll turn Smitten into a honeymoon destination! As Natalie, Julia, Shelby, and Reese work to save the town, each discovers romance in her own life. Meanwhile, the faith of a little child reminds the whole town what it means to have real faith in the God who is the always and forever Love. Discover a novel written by four of Christian fiction's most popular romance novelists- friends in real life who've drawn an amazing story of four friends! Includes a Reading Group Guide as well as "Conversation over Coffee with the Authors"
Smitten was featured in the November newsletter of Booksneeze.com and I was immediately intrigued by the synopsis. I marked my calendar so that I could request it. There was a problem, and the release date was rescheduled to begin at midnight on Nov. 24th. Not wanting to miss out, I set my alarm and crawled out of bed to order it. I am so glad that I did because I thoroughly enjoyed this heart-warming tale.
Smitten is a contemporary romance with a dash of faith. Not to sound cliché, but I was completely smitten with Smitten. Coble, Billerbeck, Hunter, and Hunt deliver a fast-paced romance, complete with small-town charm. Main characters, Natalie, Julia, Shelby, and Reese are completely different right down to how they exercise; but they are the best of friends. Each is a successful business owner, whose fate is tied to the closing of the lumber mill. They form an idea to turn the town into a romantic tourist destination. The only problem they face is getting the men of the town to agree. The main character's personalities are based on the author's themselves. I thought this was a unique way to get to know each a little better. In real life, the four authors are best friends and lean on each other for support and faith. This was evident in the bond the characters shared. The characters are flawed, independent, smart, genuine and care about each other and the town of Smitten. Two young characters Mia and Willow are refreshing and their unwavering faith a wonderful reminder to us all. The tale that unfolds is delightful, and as each woman brings her own visions to fruition, she unexpectedly finds true love. The romance between the couples was sweet. The interaction between each couple made my heart flutter, made me cry and even laugh aloud.
At its conclusion, I was saddened that my time in Smitten had come to an end. Imagine my delight when I saw the announcement of next year's novel Secretly Smitten. It promises to reveal a long-held secret. The release date is expected in December of 2012. I highly recommend Smitten to fans of contemporary romances, small towns, and faith-based messages. All of these authors are successful in their own right and I encourage you to check out their published works. I am hoping that the four of them continue to collaborate. This novel is currently available in both paper and digital formats.
Related Posts