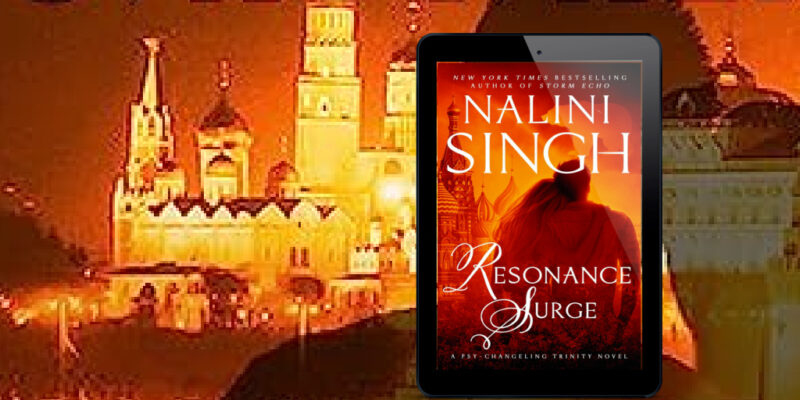 Sophia Rose is here with a series I one day hope to continue. Resonance Surge by Nalini Singh is the seventh book in the Psy-Changeling Trinity series. Come check out Sophia's thoughts. Grab an iced coffee and check out her review.
Resonance Surge
by Nalini Singh
Series: Psy-Changeling Trinity #7
Genres: Paranormal Romance
Purchase*: Amazon | Audible *affiliate
Rating:

Heat Level:
Where are the broken? A propulsive question that unleashes a world of secrets in New York Times bestselling author Nalini Singh's Resonance Surge . . .

StoneWater bears Pavel and Yakov Stepyrev have been a unit since birth, but now Pavel's life is veering in a new direction, his heart held in the hands of Arwen Mercant, a Psy empath—and the only man who has ever brought Pavel to his knees.

This is it. A point of irrevocable change. For Pavel . . . for Arwen . . . for Yakov . . . and for another pair of twins whose bond has a far darker history.

A low-gradient Psy, Theodora Marshall is considered worthless by everyone but her violently powerful twin, Pax. She is the sole person he trusts in their venomous family to investigate a hidden and terrible part of their family history—an unregistered rehabilitation center established by their grandfather.

Places of unimaginable pain designed to psychically wipe minds, leaving the victims shells of their former selves, the Centers are an ugly vestige of the Psy race's Silent past. But this Center was worse. Far, far worse. And now Theo must uncover the awful truth—in the company of a scowling bear named Yakov who isn't about to take a Marshall at face value . . . especially a Marshall who has turned his dreams into chilling nightmares.

Because Yakov is the great-grandson of a foreseer . . . and he has seen Theo die in an unstoppable surge of blood. Night after night after night . . .
Sophia Rose's Review
I would have leaped at this new series installment no matter what, but when I spotted we were back with the bear changelings, I was itching to devour Resonance Surge in one go- and nearly did.
Resonance Surge is book seven in the follow up Psy-Changeling Trinity paranormal romance series. The series reads like urban fantasy in many ways. Hence, they should definitely be read in order and the original series shouldn't be skipped.
Since Silence fell, the new Psy leaders have time to dig into the dark secrets and atrocities their predecessors hid during their time in power. Like the Psy secret compound hospitals where some unfortunate psy were sent to have their minds wiped. It was all chilling mad house torture stuff in my mind complete with a bloody serial killer and so I needed little assistance to find portions of Resonance Surge hair-raising.
I enjoy a good thriller so I appreciated that element paired with the sensational slow-burn romance between a sizzling hot and fun senior bear clan member and a lethal psy who was abused and manipulated in the past, but guilt-ridden and needing answers in the present.
Actually, make that two romances because both Yakov and his twin Pavel get their romances.
Pavel and Arwen Mercant, a powerful e-Psy have had something going through a few books now, but they finally get time in the spotlight with Yakov and Theo.
Yakov was a wonderful hero. He's brash, dominant, and capable, but he is oh so careful with Theo who has known only darkness and pain in her life save her hidden connection with her twin, Pax. Pax was the family golden child to their sadistic Counselor grandfather and Theo was the disappointing dud that their grandfather didn't hesitate to abuse and treat like a killing tool. Yakov's sunny demeanor and open love and closeness with his tight-knit family and pack are exactly what she needs. I loved seeing them enjoying food, play, family, and even work together paired with the exciting or tense moments brought on by the mission she is on and danger hunting Theo.
The series arc didn't get much advancement save for brief look-ins here and there, but I couldn't really care because I'm such a sucker for time spent with the Stone Water bears and Mercants. That last chapter was a monster teaser leaving me needing to know what comes next in this world. I tried to take my time reading this, but there was no pumping the breaks once I got going. Love this series so much and can't wait for each new installment.
Come see why Sophia Rose was a sucker for time spent with Stone Water Bears & Mercants in Resonance Surge by Nalini Singh #bookreview
Click To Tweet

Stay Caffeinated!
Never miss a post by adding Caffeinated to your Inbox
Related Posts