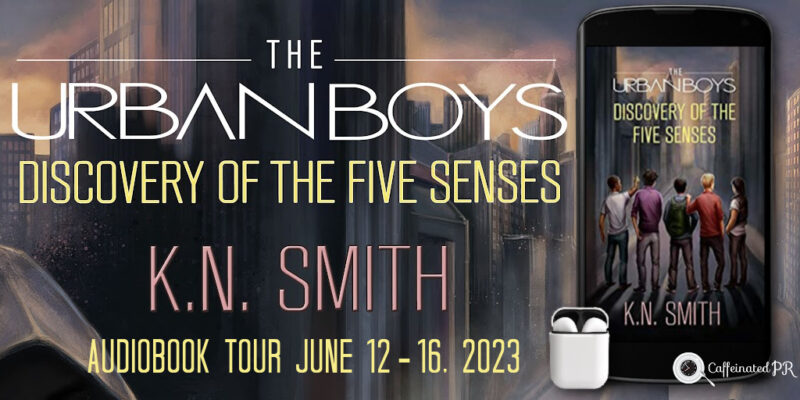 Today we've got a peek at K. N. Smith's audiobook Urban Boys: Discovery of the Five Senses. This young adult urban fantasy tells the story of five friends who discover heightened senses in a forbidden preserve. Check out the audio teaser & enter the giveaway before grabbing your headphones and copy today!
Discovery of the Five Senses
Amazon | Audible | Universal Links | Goodreads
Narrated by: Glenn Steinbaum
Listening Length: 8 hours and 10 minutes
A suspenseful incident in a forbidden preserve heightens the senses of five friends. Sight, sound, touch, taste, and smell become super-gifts that forever change the world. But furious battles confront the boys as they try to understand their sensory super powers in a race to save mankind. With light beings and mysterious strangers complicating their plight, can the boys defeat the evil Druth before it's too late? Get prepared for the twisting and grinding of this award-winning, action-adventure story—an edge-of-your-seat narrative for young and mature listeners alike.
About the Author
K.N. Smith was awarded "Best of" in the category of "Outstanding Young Adult Novel" at the 10th Annual Leimert Park Village Book Fair's Jessie Redmon Fauset Book Awards. She is a Readers' Favorite "Gold Medal" honoree for "Young Adult – Mystery", the Royal Dragonfly Book Awards "1st Place Honoree" for "New Author: Fiction" and "Science Fiction/Fantasy", and a Book Excellence Award Winner for "Young Adult Fiction". Her lyrical flair sweeps across pages that twist and grind through action-adventure and urban fantasy in edge-of-your-seat narratives. She is an advocate of literacy and arts programs throughout the world. K.N. has over twenty-five years' experience in communications and creative design as an award-winning consultant, and is the founder of Mental Health California™, her signature nonprofit community initiative. Reading is still her foremost hobby. Visit K.N. Smith at www.knsmith.com.
Website | Facebook | Instagram | Newsletter
Amazon | Audible | Universal Links | Goodreads
Giveaway
Enter to win a $50.00 US Visa Gift Card. International winner will receive a gift card with an equivalent amount of $50. Ends June 22, 2023. May the odds be forever in your favor.
a Rafflecopter giveaway