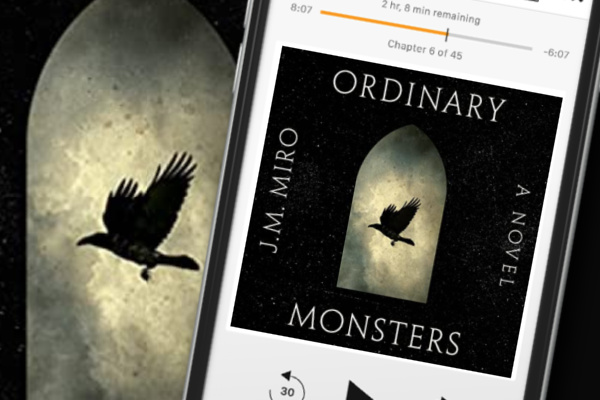 Narrated by Ben Onwukwe, Ordinary Monsters by J.M. Miro, is the first audiobook in the Talents Trilogy. This historical fantasy is rich in magic, as Victorian era children with rare gifts find themselves hunted by evil. Grab an iced coffee and see what I loved about this brilliantly written tale….
Ordinary Monsters
by J.M. Miro
Series: The Talents Trilogy #1
Narrator: Ben Onwukwe
Length: 24 hours and 58 minutes
Genres: Fantasy
Source: Publisher
Purchase*: Amazon | Audible *affiliate
Rating:

Narration: 5 cups Speed: 1.3x

A STUNNING NEW WORK OF HISTORICAL FANTASY, J. M. MIRO'S ORDINARY MONSTERS INTRODUCES LISTENERS TO THE DARK, LABYRINTHINE WORLD OF THE TALENTS

England, 1882. In Victorian London, two children with mysterious powers are hunted by a figure of darkness—a man made of smoke.

Sixteen-year-old Charlie Ovid, despite a brutal childhood in Mississippi, doesn't have a scar on him. His body heals itself, whether he wants it to or not. Marlowe, a foundling from a railway freight car, shines with a strange bluish light. He can melt or mend flesh. When a jaded female detective is recruited to escort them to safety, all three begin a journey into the nature of difference, and belonging, and the shadowy edges of the monstrous.

What follows is a story of wonder and betrayal, from the gaslit streets of London, and the wooden theatres of Meiji-era Tokyo, to an eerie estate outside Edinburgh where other children with gifts—the Talents—have been gathered. There, the world of the dead and the world of the living threaten to collide. And as secrets within the Institute unfurl, Marlowe, Charlie and the rest of the Talents will discover the truth about their abilities, and the nature of what is stalking them: that the worst monsters sometimes come bearing the sweetest gifts.

Riveting in its scope, exquisitely written, Ordinary Monsters presents a catastrophic vision of the Victorian world—and of the gifted, broken children who must save it.
Set in Victorian England in 1882, we learn about a group of magical or gifted children who are offered a safe refuge at Carindale Academy in Scotland. However, a former student is seeking them out for nefarious purposes.
While the story offers a large and unique cast of characters, the primary focus is on two of the children. In truth, a few became favorites, but all were intriguing and unique and drew me in. I've seen this story likened to the Umbrella Academy, Miss Peregrine and Penny Dreadful. I found these suggestions to be truthful.
The world-building was superb and the whimsical prose will pull the listener in. At its core, it explores good vs evil and the grey area in-between.
The children called Talents have unique abilities…think X-Men. From invisibility to burning touches. I think the audiobook heightened my ability to keep track of this large cast. I will shelve this in the adult category, despite the children, but a young adult audience would enjoy it as well.
The story is rich, atmospheric and has us traversing the globe from orphans in America to the streets of Tokyo, Vienna and Edinburgh. Miro does a wonderful job of sharing the world, times and experiences these orphaned children encounter. The listener becomes emotionally invested and the evil chasing them will unnerve you from their ability to the descriptive writing of these events.
An atmospheric, well crafted tale with characters you'll want to spend more time with. Miro left us in a good place at the end of this first in a planned trilogy. I yearn to know what lies ahead.
Ben Onwukwe performed the audiobook narration, giving voice to these characters and enhancing the tone Miro intended. I will definitely listen to the entire trilogy, but also bought the ebooks to follow along.
Narrated by Ben Onwukwe, Ordinary Monsters by J.M. Miro delivered an atmospheric tale that will leave you begging for more. #Fantasy #TalentsTrilogy #audiobook #audiobookreview
Click To Tweet

Stay Caffeinated!
Never miss a post by adding Caffeinated to your Inbox
Reading this book contributed to these challenges:
Related Posts