Sophia Rose is visiting with the final audiobook in the Shannon Sisters trilogy. Escape to Montana and listen to Charlotte North's narration of A Hometown Proposal by C.J. Carmichael.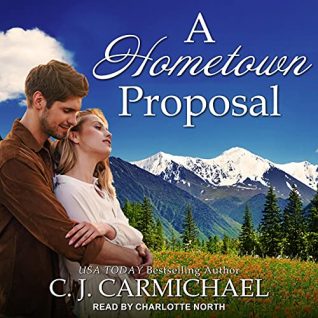 A Hometown Proposal
by C.J. Carmichael
Series: The Shannon Sisters #3
Narrator: Charlotte North
Length: 4 hours and 46 minutes
Genres: Contemporary Women
Source: Publisher
Purchase*: Amazon | Audible *affiliate
Rating:

Heat Level:

Narration: 5 cups Speed: 1.3x

She's looking for a second chance to reconnect with her daughter but finds so much more.

Since her husband's climbing death a year ago, Maureen Shannon's relationship with her twelve-year-old daughter has spiraled out of control. Desperate, she resigns from her partnership at a legal firm and moves back to her hometown in Whitefish, Montana, with the hope that family and nature can heal their wounds. Her investment in a heli-skiing and lodge operation makes financial sense, but her attraction to the owner doesn't. He's everything she's come to hate—a man who makes his living chasing adventure.

Jake Hartman knows Maureen Shannon is off limits. She's an investor in his company—a silent investor who's never silent. Worse, she's a mom who's beautiful, intelligent and makes him feel more alive than he's ever known. A self-confirmed bachelor, he finds himself uneasily contemplating a very different partnership.

But will Maureen be able to let go of her past and build a future with a man who never imagined becoming a husband or a father?
Sophia Rose's Review
Widowed because her husband was an adrenaline junkie, struggling with her daughter's angry grief, and moving to her hometown to be surrounded by family and a fresh start, does she really need a new romantic opportunity? These sisters, their love interests, and their lives have warmed my heart since the beginning. It seems fitting that Maureen, the bossy, oldest Shannon sister with the toughest emotional struggles, should get the final story and with a man who seems made to get all her hackles up.
A Hometown Proposal is the third and final book in a trilogy of closely knit books that should be read in order.
Montana ranching country comes into colorful life as the backdrop for this series and I love how each sisters' story has a different aspect from an inn, to law enforcement, and now an adventure business. Then there is the family focus of three sisters who grew up with a dad who mostly abandoned the family and a mom who resented that. Sisters who were all very different from each other and went with different interests in careers and love life, but always had each other's backs through thick and thin. Maureen was the sister I've been wary of since the beginning even though both younger sisters rely on her legal expertise, advise, and support even when her own life seems to be falling apart.
While she is focused on Holly's reaction to her dad's death, Maureen has been carrying around her own anger and issues with her husband, which she tends to transfer onto Jake when she struggles against the attraction they share. Jake might be athletic and into adventurous, rugged activities, even laid back and easygoing on the surface, but he is nothing like the man in fundamental ways. Maureen was a tough one and I appreciated all she had to unpack emotionally from her past and especially struggled when Jake and Holly made their own connections when Holly wouldn't connect with her mother. I loved that a man who didn't see himself in such a role ended up being the emotional connection that mother and daughter needed to come together as a family- eventually. Jake had a lot of page time and had his own struggles especially when it came to Maureen and his business, but I felt that this was mostly her story.
What has been an exciting part of the series from the beginning was the suspense element that having the ex-mayor still greedily scheming to bring big development of the land out by the ranch, even if he lost his chance at the ranch itself. The mystery that has been strong in book one and continued was resolved in this last book, bringing an exciting edge to a deep-felt small town romance and some interesting surprises for the sisters and their families.
Charlotte North has been an impeccable match for this trilogy of stories. She gave voice to each sister and the surrounding cast of characters so that I saw them all distinctly in my mind. She brought out the country and small town setting and caught the tone of the situation and scenes perfectly.
A Hometown Proposal is about the length of an extended novella, but it is a complete and rich story. The writer has a gift for writing with an economy of words that pulled me in and kept me engaged throughout. This last book focuses on Maureen and Jake's story and romance, but does a great job of tying all the sisters' stories together and bringing the whole series' story to a satisfying close.
A Hometown Proposal by CJ Carmichael delivered a complete and rich story. #ShannaSisters #trilogy #MustListen #audiobook #CharlotteNorth
Click To Tweet

Stay Caffeinated!
Never miss a post by adding Caffeinated to your Inbox
Related Posts