Please welcome to Sophia Rose to the blog with a review of The Rebellion Engines by Jeannie Lin. This is the fourth novel in the Gunpowder Chronicles. If you love steampunk, you won't want to miss this series. I loved book one and need to catch up!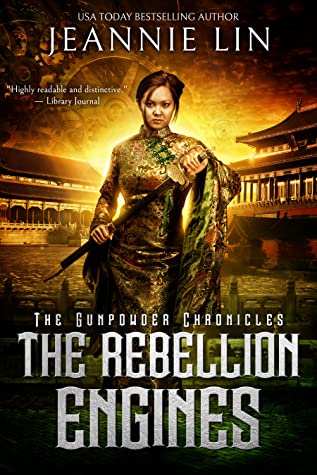 The Rebellion Engines
by Jeannie Lin
Series: Gunpowder Chronicles #4
Genres: Steampunk
Source: Publisher
Purchase*: Amazon *affiliate
Rating:

Heat Level:
War looms on the horizon. Can a young woman caught between family and country keep her loved ones alive?
China, 1853. Jin Soling's divided loyalties rest on a knife's edge. Paired with Chen Chang-wei, her former betrothed, Soling works as a physician in a secret factory building automatons to march on the empire's battleground cities. Though Soling and Chang-wei's bond has grown stronger, the strain of serving a country in turmoil threatens to tear them apart.

From a dangerous smuggling run in pirate-infested waters to a dramatic confrontation in the winding streets of Shanghai, Soling learns that the greatest danger might not come from foreign invaders, but from forces inside their own borders.

Will Soling sacrifice her life and love to an empire that has forgotten its own people?
The Rebellion Engines is the mind-blowing conclusion to the Gunpowder Chronicles steampunk fantasy trilogy. If you like sinister political intrigue, slow-burn romance, and the epic scale of Qing-Dynasty China, then you'll love Jeannie Lin's powerful tale.
Sophia Rose's Review
After the exciting adventure began in Gunpowder Alchemy, we arrive at last to the final leg of Jin Soling's tale. Qing Dynasty China is a powder keg of factions and the foreigners encroaching on the shores are like sharks circling. Soling and Chang-wei are caught up in it all knowing they are likely to get crushed under the machine of empire or rebel at any time.
The Rebellion Engines is the fourth entry in the Gunpowder Chronicles series and the third full-length leg of the story. They all comprise one story so much be read in order. Some might opt to skip the novellas that are all gathered up in the Tales of the Gunpowder Chronicles, but I found that all three of those novellas had bearing on the series and particularly this final book.
It has been a few years since the release of the Clockwork Samurai and I was excited to see that the final leg of the story was written and coming out. Jin Soling has been a fabulous heroine from the beginning. Her life hasn't been fair, but she's got gumption and keeps getting up, dusting off and going on. Chang-wei was cautious and less willing to buck the system, but, in his own way, he was a fighter to achieve what he has. They both have stuck together even when not in full agreement like now when he is completely loyal to the empire even after what was done to him, Soling's family, and so many other people. Soling is skeptical that their loyalty will matter little and they are expendable, but she sticks by Chang-wei and watches him push himself to the brink of sickness to build the automaton army he promised the emperor.
Meanwhile, there is sabotage at the factory, the automatons aren't ready when the royal inspectors come; the rebels are still on the move, and Soling discovers her mother has returned to Peking and the nest of shark-like political intrigue there. Chang-wei is keeping secrets from her and she wonders if their budding relationship still stands a chance. Chang-wei's orders are even more dangerous than she thought when he gets them and of course she goes along where he goes even onto a certain 'mad scientist's' pirate junk with their ultimate destination: a showdown in Shanghai.
The depth of characterization and the weaving of the plot set against the lush backdrop of nineteenth-century China with the addition of steampunk machine and gadgetry were fabulous. I loved dropping back into this world with the intrigue and excitement that matches character growth and relationships.
This felt like a final book in the series as all the players of the past were present and many of the mysteries were explained as well as characters becoming fully realized. Though, I must admit, the author didn't tie every last thread up with a pretty, little bow because some aspects of the world of the stories couldn't be suddenly tied up and are an ongoing reality of the world- opium and the addictions don't just go away, encroaching foreign traders, and neither do corrupt government types or those who would rebel against what they see as injustice. And, the author demonstrated many aspects of romance in these- from having a loving relationship and losing it across the gamut to a couple finally speaking their piece and getting their chance.
The big finale was perfect and had my heart racing. Then, the denouement was just what was needed to bring things to a satisfying end. Although, that said, I would never say no to more stories from the Gunpowder Chronicles' world. This series is recommended for those who love Asian history and steampunk romance.
The Rebellion Engines by Jeannie Lin delivered the perfect finale to the Gunpowder Chronicles' #Steampunk #SophiaRoseReview #MustRead
Click To Tweet

Stay Caffeinated!
Never miss a post by adding Caffeinated to your Inbox
Related Posts