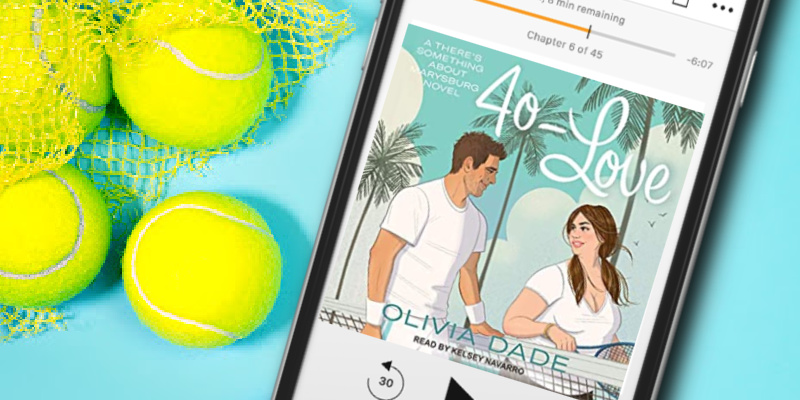 Sophia Rose is back to share an audiobook by Olivia Dade. 40-Love narrated by Kelsey Navarro. Grab a sports drink and check out her thoughts on this contemporary sports romance.
40-Love
by Olivia Dade
Series: There's Something About Marysburg #2
Length: 10 hours and 1 minute
Genres: Contemporary Romance
Source: Publisher
Purchase*: Amazon | Audible *affiliate
Rating:

Heat Level:

Narration: 5 cups Speed: 1.0x

This match is no game.

When a rogue wave strips Tess Dunn of her bikini top, desperate, half-naked times call for desperate, please-cover-me-kids-are-coming-closer measures. Enter Lucas Karlsson, AKA that flirty Swede in the water nearby. When he prevents her bare buoys from being exposed to fellow vacationers, even an ocean can't drown the sparks that fly.

Lucas, a former top-level tennis pro now giving lessons at the resort, fled there after the abrupt, painful end to his injury-plagued career. But he's finally ready to move on with his life—and after a few late-night, hands-on sessions with Tess, he's eager to prove he's the ace she wants.

But this match comes with challenges: She's forty, and at twenty-six, he's barely old enough to rent a car. Worse, they only have two weeks together before Tess returns to her assistant-principal life in Virginia. During that brief time, they'll have to play hard, take a few risks, and find out whether their chemistry is a one-shot wonder…or whether they're meant to be doubles partners for life.
Sophia Rose's Review
A beach vacation for a vice principal brings more than a sunburn and a souvenir when all's said and done. I spotted this one and had an instant summer frolic romance vibe from it and happily settled in to listen to a new to be author/series and narrator. I was instantly smiling and enjoying my intro to Tess Dunn and her dilemma.
40-Love is the second in a series, but it stood alone just fine. I hadn't read/listened to the first book and had no trouble launching into Tess and Lucas' story.
Tess is forty and a vice-principal back home in Virginia. She has dreams of being principal and knows her conduct will be taken into consideration. Such as flashing her extremely large girls at a bunch of kids at the beach in Florida when she has a bikini wardrobe malfunction. She has to accept the assistance of a smug-faced younger guy who knows he's got it. She's not falling for that.
Lucas is twenty-six years old and had his pro tennis career derailed and he's just now getting himself sorted out as he does tennis lessons at the resort. He may appear the opposite of the uptight set in her ways, Tess, but he's settling down and looking for more than flirty fun in the sun. They have two weeks for the sparks of attraction to catch into flame.
I am a sucker for flirty banter in the getting to know you stage and that was what was happening when Lucas came to Tess' rescue out in the water by letting her hide her exposed boobs against his back so a bunch of kids playing nearby didn't get an eyeful. Her best friend decides Tess needs to relax and have a vacation romance, so sets her up for tennis lessons. Tess presumes about Lucas (though at first, he gave her good reason) and they have a stormy shouting match that clears the air when they both come back and admit they were out of line.
Both characters were fabulous, and I really enjoyed how they heated things up, but also had some frank conversations. Plus, there were some hilarious inner monologues on Tess' part. The age gap is a factor for Tess and they have pasts that factor in the present, but, yay, we avoided the evil ex cliché. In many ways this is a low angst romance though there are some hurdles to get over and a clock ticking down. Tess doesn't have a rocking body, but she is comfortable in her skin and it takes her a bit to realize that Lucas isn't just making time, but he appreciates her as is. He truly heard her and responded well to unselfishly make it about her needs. He might be younger, but he bridged the gap and made it believable that they could work. The author wrote relatable people's feelings and conversations.
40-Love by Olivia Dade had fabulous characters with hilarious inner monologues and frank conversations. #audiobook #SophiaRose #JIAM @LoveAudiobooks
Click To Tweet

Stay Caffeinated!
Never miss a post by adding Caffeinated to your Inbox
Related Posts