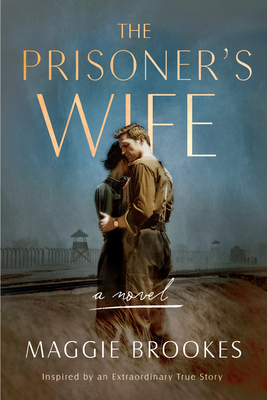 The Prisoner's Wife
by Maggie Brookes
Genres: Historical Fiction
Source: Publisher
Purchase*: Amazon | Audible *affiliate
Rating:
Inspired by the true story of a daring deception that plunges a courageous young woman deep into the horrors of a Nazi POW camp to be with the man she loves.

In the dead of night, a Czech farm girl and a British soldier travel through the countryside. Izabela and prisoner of war Bill have secretly married and are on the run, with Izzy dressed as a man. The young husband and wife evade capture for as long as possible—until they are cornered by Nazi soldiers with tracking dogs.

Izzy's disguise works. The couple are assumed to be escaped British soldiers and transported to a POW camp. However, their ordeal has just begun, as they face appalling living conditions and the constant fear of Izzy's exposure. But in the midst of danger and deprivation comes hope, for the young couple are befriended by a small group of fellow prisoners. These men become their new family, willing to jeopardize their lives to save Izzy from being discovered and shot.

The Prisoner's Wife tells of an incredible risk, and of how our deepest bonds are tested in desperate times. Bill and Izzy's story is one of love and survival against the darkest odds.
I am often drawn to fictional books that take place during WWII. I love the weaving of history and the human side of the stories. In The Prisoner's Wife by Maggie Brookes, a Czech farm girl and a British soldier face incredible odds in the name of love.
I loved diving in and finding out how a British solider met a young Czech girl and fell in love. A true story inspired Maggie Brookes' tale and aren't those the best kind.
The story that unfolds does so slowly but captures the reader from the Czech farm to the young British prisoners of war who arrive to help harvest the fields.
The romance that unfolds has all the hallmarks of timeless romance. We are present from the stolen glances to those first kisses. Love makes all obstacles moveable and together Izabela (Izzy) and Bill devise a plan to be together.
Brookes' allows us to travel along with them as they traverse the countryside at night before they are captured and placed in a prisoner-of-war camp. To survive Izzy most pose as a British solider and they cannot do it alone.
The story was heartfelt, genuine and filled with the best and worst of humanity. It would make a wonderful movie and I can picture each character in my mind, even the enemies from the worst villains to the kinder souls.
The tale weaves historical events & facts while introducing characters that aided Bill & Izzy. It was frightening and exhilarating. The author shares moments of friendship, love and hope against the stark landscape of reality.
I've read plenty of stories about the Jewish camps, but this was my first prisoner of war camp and we visit several, including work camps. The tale also includes the infamous march where many perished and the horrors committed.
Fans of tales that feature historical events, incredible love stories and human endurance, will find The Prisoner's Wife to be a memorable and shelf worthy read.
In The Prisoner's Wife by Maggie Brookes, a Czech farm girl and a British soldier face incredible odds in the name of love. #NewRelease #MustRead #Historical #Ronance #WWII
Click To Tweet
Stay Caffeinated!
Never miss a post by adding Caffeinated to your Inbox
Your email is not shared and you can unsubscribe at any time.
Related Posts