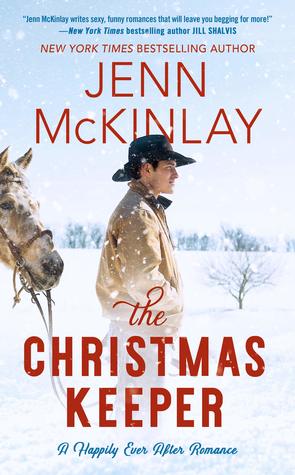 The Christmas Keeper
by Jenn McKinlay
Translator: *affiliate links
Series: Happily Ever After #2
Genres: Contemporary Romance
Source: Publisher
Purchase*: Amazon | Audible *affiliate
Rating:

Heat Level:
True love and holiday cheer combine for an unforgettable romance in this second Happily Ever After novel featuring a North Carolina bookstore from the New York Times bestselling author of The Good Ones.

All he wants for Christmas...

The second Joaquin Solis saw Savannah Wilson, he knew she was destined to be his wife. Unfortunately, Savannah's sights are set on a happily-ever-after of another kind: skewering the boss who got her fired. Until then, she won't act on the scorching sexual chemistry that is brewing between them, leaving Joaquin scrambling to find a way to capture her heart.

When the opportunity arises to use his ranch to boost Savannah's publicity career, Joaquin doesn't hesitate to invite her into his world at Shadow Pines and woo her with all of his Christmas loving mojo. It's a gamble since the holidays aren't really Savannah's thing and helping her might also mean losing her as she plans to shake the dust off of their quaint town in North Carolina and head back to New York City the first chance she gets.

But Joaquin believes in the magic of Christmas and he knows with a little help from his friends at the Happily Ever After Bookstore, he can convince the woman of his dreams that he's a keeper...
The Christmas Keeper by Jenn McKinlay is the second novel in the Happily Ever After series, but that didn't stop me from swooning and enjoying this holiday romance filled with sweaters, books and magical moments.
Despite not having read the Good Ones, I jumped at the chance to read this and it paid off. While I plan to go back and read Ryder and Maisy's story, this works as a standalone.
Savannah Wilson is a city girl. Manhattan to be exact and she is in Fairdale, North Carolina living above her best friend's bookstore within the quaint old Victorian for two reasons. 1. to help her friend launch her bookstore and 2. to earn back her reputation. She isn't staying, but that doesn't stop Joaquin Solis from telling Ryder he will marry Savannah by Christmas.
The tale that unfolds had sexy chemistry, snark, delicious banter and plenty of mistletoe. It also had a slight mystery as Savannah and Joaquin work together to save Maisy's bookstore. I loved the thread about the bestselling author and Joaquin's family story, particularly his sister just tugged at my heart-strings, and brought on all the feels.
This story delivered made for Hallmark moments without all the cheese, I loved The Christmas Keeper.
Grab some hot cocoa and snuggle by the fire with The Christmas Keeper by Jenn McKinlay #swoon-worthy #HallmarkChristmas #MustRead #HappilyEverAfter
Click To Tweet
Reading this book contributed to these challenges:
Related Posts