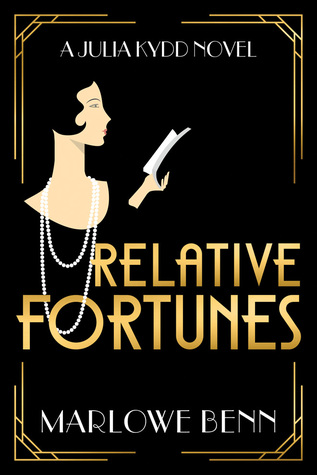 Relative Fortunes
by Marlowe Benn
Series: A Julia Kydd Novel #1
Genres: Historical Fiction, Mystery
Source: Publisher
Purchase*: Amazon | Audible *affiliate
Rating:
In 1920s New York, the price of a woman's independence can be exorbitant—even fatal.

In 1924 Manhattan, women's suffrage is old news. For sophisticated booklover Julia Kydd, life's too short for politics. With her cropped hair and penchant for independent living, Julia wants only to launch her own new private press. But as a woman, Julia must fight for what's hers—including the inheritance her estranged half brother, Philip, has challenged, putting her aspirations in jeopardy.

When her friend's sister, Naomi Rankin, dies suddenly of an apparent suicide, Julia is shocked at the wealthy family's indifference toward the ardent suffragist's death. Naomi chose poverty and hardship over a submissive marriage and a husband's control of her money. Now, her death suggests the struggle was more than she could bear.

Julia, however, is skeptical. Doubtful of her suspicions, Philip proposes a glib wager: if Julia can prove Naomi was in fact murdered, he'll drop his claims to her wealth. Julia soon discovers Naomi's life was as turbulent and enigmatic as her death. And as she gets closer to the truth, Julia sees there's much more at stake than her inheritance…
Relative Fortunes by Marlowe Benn may have started off slowly for me, but I soon found myself caught up in this cunning murder-mystery set against the roaring twenties in Manhattan.
Relative Fortunes by Marlowe Benn transports the reader to 1924 Manhattan as young, Julia Kydd is preparing to embark on a career in publishing once she inherits. However, all of her dreams are thwarted when her step-brother challenges the terms of their late father's will. Can a challenge involving the recent death of outspoken suffragist, Naomi Rankin solve Julia's problem?
I loved the setting and the apparent dedication Benn put forth into making sure the book was historically accurate from clothing to speech. I loved these details. Having said that, I felt the first one-third of the book took a bit to pull me in. Once the mystery was well underway, it pulled in me and the final one-third of the book held me captive.
We have several plot threads which all affect one another. First, Julia Kidd our protagonist, has been a ward of her elder half-brother since their father died. The terms of the will are such that Philip will handle Julia's fund until her twenty-fifth year. Julia has marvelous plans. She is forward thinking and while not necessary a suffragist; she wants a life free of marriage to pursue her passion, which is books and rare prints. Fonts to be precise. However, upon arriving in Manhattan she learns her brother plans to protest her inheritance. They agree to have the family law firm to handle the arbitration.
In the meantime, Julia befriends Glennis. Unusual circumstances lead them the discovery of her dead Aunt. Glennis begs Julia to help her investigate the circumstances around the aunt's death. When she shares the story with Philip and his friends it soon becomes a high stake game, one that could impact her very future. Philip wagers that if she can prove it was murder, he will withdraw his petition.
The case was fascinating and takes us into the world of women's rights. It showcases the climate, different sides, social standings of the period and offers a glance at some seedier sides of life. It gives Julia a look at a life much like the one she wants for herself. I liked Julia and found her to be clever and observant.
The story was slow to get going but once it took off, and I began to get to know the players it became an engaging story. It was after finishing that I discovered this is the first in a series and I felt a little more forgiving. This was a good start. I am curious to see what adventures Julia will get up to next installment.
Reading this book contributed to these challenges:
Related Posts