It's time once again for Nonna's Corner. A chance for me to share books I've read to my grandchildren, affectionately referred to as the "Royals" here at Caffeinated. Today we have a wonderful story about friendship. Grab a cuppa and enjoy…
Beautiful illustrated in soft pastels by Gillian Flint, Button and Bundle written by Gretchen Mclellan shares the wonders of friendship both old and new.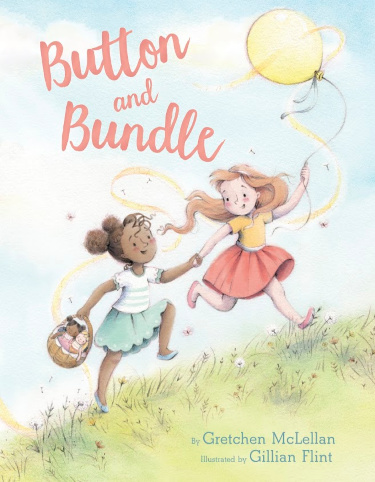 Button and Bundle
by Gretchen McLellan
Genres: Childrens
Pages: 32
Source: Publisher
Purchase*: Amazon *affiliate
Rating:
A tender story about two best friends who must move away from each other. With a sprinkle of imagination and a lot of love, Button and Bundle will learn the true meaning of friendship.

Button and Bundle are best friends. So are their dolls.

But when Button has to move away, she's sad and lonely without Bundle.

Until one day, Button finds a single yellow balloon and an idea. With a little luck, maybe she can reunite Bundle with their dolls again!

Knowing that her faraway friend would be happy is the happiest idea of all.

This sweet and charming friendship story addresses how to cherish old friendships while making new ones. With fun, imaginative play, Button and Bundle create a world they'll share no matter how far apart they are.
Button and Bundle are friends; very best friends. They spend their days together along with their dolls, Petal and Rose. We spend time with them playing, skipping and dreaming. Until one day Button has to move away. We follow Button to her new home. She is very sad and tries to imagine what her friend is doing. It was touching and sweet as we see her go through the stages of loss a child might experience…until one day while looking for fairies she spots another young girl over the fence.
With beautiful illustrations Mclellan tugs at your heartstrings as she shares the wonders and magic of friendship. Button navigates first-friends and new friends. It was simplistic allowing the images and words to weave together to evoke feeling.
I enjoyed the message. Sophia, who is four felt empathy and joy for these characters. It opened the door for discussion and would make the perfect gift for a young one who is moving, starting a new school or to share in a classroom setting.
Age Range: 4 – 8 years

Grade Level: Preschool – 3
Beautiful illustrated in soft pastels by Gillian Flint, Button and Bundle written by Gretchen Mclellan shares the wonders of friendship both old and new. #children #book
Click To Tweet
Related Posts