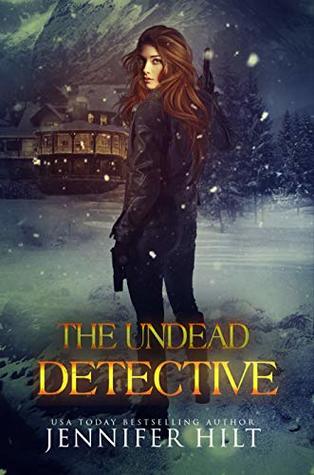 The Undead Detective
by Jennifer Hilt
Series: Undead Detective #1.5
Genres: Paranormal
Source: Kindle Unlimited
Purchase*: Amazon *affiliate
Rating:
Paranormal reunions are murder.

As a vampire detective, my needs are simple. I like my human PA, our spoiled Shih Tzu and solving crimes. Sure I'm set in my ways but that's not surprising after being undead for two centuries.

A reunion at the Colorado mansion of my former employer isn't my first choice for leaving LA but I promised my PA a white Christmas. Besides professional curiosity has me wondering how my former colleagues are faring.

But when our host is murdered I discover no fae, nymph, shifter, witch or demon is above suspicion. And the murderer isn't done yet.

Luckily I have a talent for solving crimes, a taste for blood and a knack at wanting the forbidden.
I discovered The Undead Detective by Jennifer Hilt while browsing Kindle Unlimited. A holiday party of paranormals, a great hunt, and murder made for a fun intro to this series.
After finishing I discovered a full-length novel released the year before called The Undead Detective Bites: Book 1. Can I say it makes me crazy when books aren't properly labeled? It makes me crazy! Based on release dates, The Undead Detective would be #1.5 in the Undead Detective series. However, it doesn't matter which order you read them. The author includes a sample of book one in this novella.
We meet Hattie Silverthorne, a detective and medical examiner who also happens to be a two hundred-year-old vampire. When her personal assistant and consort Ben finds a discarded invitation for a costume party, she suddenly accepts after he reminds her repeatedly she promised him a vacation involving snow. They along with their pet Shih Tzu set out for Colorado.
A murder mystery awaits them, offering us a chance to see Silverthorne in action. This was entertaining although I felt like a stranger at the party. The author does a good job of introducing us to paranormals in the community and we get the sense they have all worked together solving crimes. Before it's all said and done, there will be a demonic possession and a few twists.
While I would have liked a longer story and series order, The Undead Detective, was entertaining and left me curious enough to go back and read The Undead Detective Bites. You'll find that review next week. A simple, entertaining mystery with a sharp-witted detective.
The Undead Detective by Jennifer Hilt delivered a house party murder-mystery involving a vampire, witches and others from the supernatural realm. #cozy #paranormal #KU
Click To Tweet
Reading this book contributed to these challenges:
Related Posts