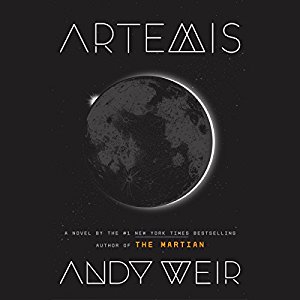 Artemis
by Andy Weir
Narrator: Rosario Dawson
Length: 8 hours and 59 minutes
Genres: Science Fiction
Source: Purchase
Purchase*: Amazon | Audible *affiliate
Rating:

Narration: 4 cups
The bestselling author of The Martian returns with an irresistible new near-future thriller—a heist story set on the moon

Jazz Bashara is a criminal.

Well, sort of. Life on Artemis, the first and only city on the moon, is tough if you're not a rich tourist or an eccentric billionaire. So smuggling in the occasional harmless bit of contraband barely counts, right? Not when you've got debts to pay and your job as a porter barely covers the rent.

Everything changes when Jazz sees the chance to commit the perfect crime, with a reward too lucrative to turn down. But pulling off the impossible is just the start of her problems, as she learns that she's stepped square into a conspiracy for control of Artemis itself—and that now, her only chance at survival lies in a gambit even riskier than the first.
I absolutely loved The Martian by Andy Weir on audio and knew I had to grab his newest novel Artemis as well. Narrated by Rosario Dawson Weir takes us to the Moon and we soon find ourselves caught up in a daring caper where one wrong move could mean death.
Caffeinated Aspects:
We've colonized the MOON! Artemis is a futuristic city on the moon with residences and is a booming tourist resort.
Weir is an incredible storyteller and his world-building while part geek beautifully brings the world to life. You could imagine the long thin corridors, see the chambers and experience first hand what it might be like to live on the moon.
The story is well paced and follows Jazz a twenty-something woman who hails from Saudi Arabia but has lived on Artemis since she was six years old. She is brilliant and trained as a welder but currently works as a porter. She is estranged from her father, broke and makes money on the side smuggling in contraband. Snarky, temperamental and definitely marches to her own drum.
Jazz is snarky, quick-witted and just tells things like it is. She made me laugh.
Jazz is asked to perform a risky task but the payoff is too tempting and she takes the job. When things go amuck, she soon finds a much deeper problem that will affect the colony. Suspense, danger, investigations, collaborations and the risk of getting caught or worse blown up made for a page-turner that kept me listening.
Secondary characters added interest and were unique enough that I could visualize them. Jazz has some history including an ex-boyfriend, ex-friend, fan, a few enemies, and a pen pal from Saudia Arabia that she considers her closes friend. All of them will play a part in this maddening caper.
Diversity! I loved the diverse society that inhabits Artemis and the natural way they were present. From sexuality to nationality it was refreshing.
Rosario Dawson is a new to me narrator and one who perfectly captured Jazz. Her males voices were well done, as well as her accents. I easily slipped into the story and enjoyed listening to her voice(s).
I loved the thought-provoking physics, chemistry and political aspects of maintaining a thriving colony off planet.
Scientific jargon and details fed my inner nerd and felt plausible. I loved each little detail and felt it helped build the suspense and danger while bringing Artemis to life in 3-D.
Snark and witty commentary much like we found in The Martian were present. While I did not enjoy this as much as The Martian Dawson's narration made this better, I still totally recommend it for fans of Weir's work and science fiction thrillers.
Standalone. In a world of series and trilogies, there is nothing more refreshing than a standalone read 🙂
Decaffeinated Aspects:
Jazz is a lot like Mark from the Martian and I worried this would fall flat. Honestly, at first, she felt like a carbon copy of him and I worried that Weir only had one good character in him. Have no fear she does develops and I loved this spunky, take no prisoners woman. Outwardly she oozes confidence and in some ways, she is. This is because she depends on herself, but we also saw her vulnerability. I love complex characters who behave like a teen one moment and a friggin superhero the next.
The ending was gripping, but I had a hard time believing reactions from others on Artemis.
Artemis was a fast paced off planet thriller that was entertaining. I recommend grabbing this one on audio, Dawson was brilliant.
Related Posts