It's that time of year again, where I pull my hair out trying to select my top ten adult reads. As many of you know I read adult fiction in many genres, making my task incredibly difficult. Below is the list I complied. You will notice all are not five cups of coffee reviews, but each book was memorable.  2014 was quite the year with favorite series ending and new to me author.  I only scratched the surface of my TBR pile. Grab a cup of coffee, cocoa or tea and enjoy. You can click on any title to read my full review. Maybe you will find your next read….
Caffeinated's Top Ten Adult Reads

Burn For Me
by Ilona Andrews
Series: Hidden Legacy #1
Publisher: HarperCollins
on October 28, 2014
Genres: Urban Fantasy
Purchase: Amazon

#1 New York Times bestselling author Ilona Andrews launches a brand new Hidden Legacy series, in which one woman must place her trust in a seductive, dangerous man who sets off an even more dangerous desire… Nevada Baylor is faced with the most challenging case of her detective career—a suicide mission to bring in a suspect in a volatile case. Nevada isn't sure she has the chops. Her quarry is a Prime, the highest rank of magic user, who can set anyone and anything on fire. Then she's kidnapped by Connor "Mad" Rogan—a darkly tempting billionaire with equally devastating powers. Torn between wanting to run or surrender to their overwhelming attraction, Nevada must join forces with Rogan to stay alive. Rogan's after the same target, so he needs Nevada. But she's getting under his skin, making him care about someone other than himself for a change. And, as Rogan has learned, love can be as perilous as death, especially in the magic world.
Burn for Me was the perfect blend of suspense and characters with a super-hero vibe. I loved in so much I began listening to the Kate Daniels series and have completely caught up on the series! If you have never tried Andrews this is an excellent place to start.

Bitter Spirits
by Jenn Bennett
Series: Roaring Twenties #1
Also in this series: Grim Shadows
Publisher: Penguin
on January 7, 2014
Genres: Historical Romance, Paranormal
 Purchase: Amazon
First in a new romance series: It's the roaring twenties, and San Francisco is a hotbed of illegal boozing, raw lust, and black magic. The fog-covered Bay Area can be an intoxicating scene, particularly when you specialize in spirits… Aida Palmer performs a spirit medium show onstage at Chinatown's illustrious Gris-Gris speakeasy. However, her ability to summon (and expel) the dead is more than just an act. Winter Magnusson is a notorious bootlegger who's more comfortable with guns than ghosts—unfortunately for him, he's the recent target of a malevolent hex that renders him a magnet for hauntings. After Aida's supernatural assistance is enlisted to banish the ghosts, her spirit-chilled aura heats up as the charming bootlegger casts a different sort of spell on her… On the hunt for the curseworker responsible for the hex, Aida and Winter become drunk on passion. And the closer they become, the more they realize they have ghosts of their own to exorcise…
I love the world Bennett has created from the 1920's setting to the ghostly cases.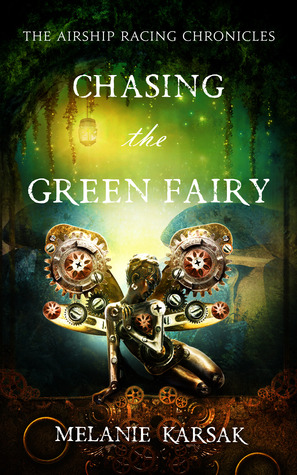 Chasing the Green Fairy
by Melanie Karsak
Series: Airship Racing Chronicles #2
Also in this series: Chasing the Star Garden
on March 4, 2014
Genres: Steampunk
Purchase: Amazon

A sabotaged airship. A recovering opium addict. A messenger with life-shattering news. With the 1824 British airship qualifying race only weeks away, Lily Stargazer is at the top of her game. She's racing like a pro, truly in love, and living clean. But on one ill-omened day, everything changes. Pulled head-long into the ancient secrets of the realm, Lily soon finds herself embroiled in Celtic mysteries and fairy lore. And she's not quite sure how she got there, or even if she wants to be involved. But Lily soon finds herself chasing the spirit of the realm while putting her own ghosts to rest. And only accepting the truth–about her heart and her country–can save her.
A fantastic steampunk Karsak continues to amazing me!

A Dangerous Madness
by Michelle Diener
Series: Regency London #3
Also in this series: The Emperor's Conspiracy, Banquet of Lies
on May 19, 2014
Genres: Historical Fiction, Mystery,Romantic Suspense
Purchase: Amazon

The Duke of Wittaker has been living a lie… He's been spying on the dissolute, discontented noblemen of the ton, pretending to share their views. Now he's ready to step out of the shadows and start living a real life…but when the prime minister of England is assassinated, he's asked to go back to being the rake-hell duke everyone believes he still is to find out more. Miss Phoebe Hillier has been living a lie, too… All her life she's played by society's rules, hiding her fierce intelligence and love of life behind a docile and decorous mask. All it's gotten her is jilted by her betrothed, a man she thought a fool, though a harmless one. But when she discovers her former fiancé was involved in the plot against the prime minister, and that he's been murdered, she realizes he wasn't so harmless after all. And now the killers have set their sights on her… The only man who can help her is the Duke of Wittaker–a man she knows she shouldn't trust. And she soon realizes he's hiding behind a mask as careful as her own. As the clock ticks down to the assassin's trial, the pair scramble to uncover the real conspiracy behind the prime minister's death. And as the pressure and the danger mounts, Phoebe and Wittaker shed their disguises, layer by layer, to discover something more precious than either imagined–something that could last forever. Unless the conspirators desperate to hide their tracks get to them first.
I love Diener's brand of historical suspense. While the romance is subtle the cases are engaging.
The Book of Life
by Deborah Harkness
Series: All Souls Trilogy #3
Also in this series: A Discovery of Witches, Shadow of Night
Publisher: Penguin
on July 15, 2014
Genres: Paranormal
Purchase: Amazon

The highly anticipated finale to the #1 New York Times bestselling trilogy that began with A Discovery of Witches. After traveling through time in Shadow of Night, the second book in Deborah Harkness's enchanting series, historian and witch Diana Bishop and vampire scientist Matthew Clairmont return to the present to face new crises and old enemies. At Matthew's ancestral home at Sept-Tours, they reunite with the cast of characters from A Discovery of Witches—with one significant exception. But the real threat to their future has yet to be revealed, and when it is, the search for Ashmole 782 and its missing pages takes on even more urgency. In the trilogy's final volume, Harkness deepens her themes of power and passion, family and caring, past deeds and their present consequences. In ancestral homes and university laboratories, using ancient knowledge and modern science, from the hills of the Auvergne to the palaces of Venice and beyond, the couple at last learn what the witches discovered so many centuries ago. With more than one million copies sold in the United States and appearing in thirty-eight foreign editions, A Discovery of Witches and Shadow of Night have landed on all of the major bestseller lists and garnered rave reviews from countless publications. Eagerly awaited by Harkness's legion of fans, The Book of Life brings this superbly written series to a deeply satisfying close.
I thoroughly enjoyed the All Souls Trilogy and was delighted by the final book. This is a series I recommend to fans of witches, historical fiction, and swoon-worthy romances.
Gunpowder Alchemy
by Jeannie Lin
Series: The Gunpowder Chronicles #1
Publisher: Penguin
on November 18, 2014
Genres: Historical Fiction, Steampunk
Purchase: Amazon

In 1842, the gunpowder might of China's Qing Dynasty fell to Britain's steam engines. Furious, the Emperor ordered the death of his engineers—and killed China's best chance of fighting back… Since her father's execution eight years ago, Jin Soling kept her family from falling into poverty. But her meager savings are running out, leaving her with no choice but to sell the last of her father's possessions—her last memento of him. Only, while attempting to find a buyer, Soling is caught and brought before the Crown Prince. Unlike his father, the Emperor, the Prince knows that the only chance of expelling the English invaders is to once again unite China's cleverest minds to create fantastic weapons. He also realizes that Soling is the one person who could convince her father's former allies—many who have turned rebel—to once again work for the Empire. He promises to restore her family name if she'll help him in his cause. But after the betrayal of her family all those years ago, Soling is unsure if she can trust anyone in the Forbidden City—even if her heart is longing to believe in the engineer with a hidden past who was once meant to be her husband…
A fantastic tale, beautiful, descriptive and engaging I loved the characters and world Lin created.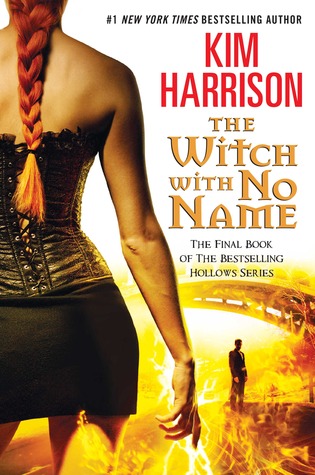 The Witch With No Name
by Kim Harrison
Series: The Hollows #13
Also in this series: A Perfect Blood, Ever After, Undead Pool
Publisher: HarperCollins
on September 9, 2014
Genres: Urban Fantasy
Purchase: Amazon

At long last… The final book in the New York Times bestselling Hollows series by Kim Harrison! Rachel Morgan's come a long way from the clutzy runner of Dead Witch Walking. She's faced vampires and werewolves, banshees, witches, and soul-eating demons. She's crossed worlds, channeled gods, and accepted her place as a day-walking demon. She's lost friends and lovers and family, and an old enemy has become something much more. But power demands responsibility, and world-changers must always pay a price. That time is now. To save Ivy's soul and the rest of the living vampires, to keep the demonic ever after and our own world from destruction, Rachel Morgan will risk everything.
I was so sad to see the Hollows come to an end, but Harrison's final book The Witch with No Name delivered leaving this fan smiling.

No Limits
by Lori Foster
Series: Ultimate #1
Also in this series: Hard Knocks
Publisher: Harlequin
on August 26, 2014
Genres: Romantic Suspense
Purchase: Amazon

A surprise inheritance reunites a mixed martial arts fighter with the woman he's never forgotten in the first in a smoldering new series from New York Times bestselling author Lori Foster… Cannon Colter is quintessential hero material: chiseled jawline, shredded body—the works. He's also the guy who rescued Yvette Sweeny from kidnappers, only to put an end to her romantic dreams. These days, she's older, smarter, determined to face whatever life throws her way. Even the prospect of sharing a house and business with Cannon. Cannon knew Yvette wanted him three years ago. But she was young—and some things are worth waiting for. Thrown together by her grandfather's legacy, he realizes how deep Yvette's scars really go, and how much danger lurks in their quiet town. As pent-up desire explodes between them, protecting her becomes the only fight that matters. And he'll break all the rules to do it…
Lori Foster delivers when it comes to romance with a twist of suspense. I adored this first book in her new series and cannot wait for more.

A Cursed Bloodline
by Cecy Robson
Series: Weird Girls #4
Also in this series: Sealed with a Curse,A Cursed Embrace, A Cursed Moon,Cursed By Destiny, A Curse Awakened
Publisher: Penguin
on November 18, 2014
Genres: Urban Fantasy
Purchase: Amazon

Since being cursed with unique abilities, Celia Wird and her three sisters have fought the most bloodthirsty preternaturals in the Lake Tahoe region. But Celia's greatest threat is someone she would have never suspected: Anara, a werewolf Elder who has allowed his hatred for Celia to spiral out of control. In a play for dominance, Anara tortures Celia and gives her an ultimatum: sever her mate bond with pureblood were Aric—or Anara will kill everyone she loves. From the instant they met, Celia and Aric have shared an attraction that cannot be tamed. So keeping Aric away is impossible, and Aric would sooner die than allow anyone to hurt the woman he loves. Misha, master vampire and Celia's sworn protector, also finds his way into the chaos, seeking blood from those who have harmed her. Now Celia and her sisters are caught in the middle of a war driven by lust, fueled by hatred, and destined to end in tragedy. For Anara is a force to be reckoned with, and he will not succumb without robbing Celia of those who hold her heart.
Robson made my heart bleed..if you haven't tried the Weird Girls yet you need to add them to your TBR pile Stat!
Sixth Grave on the Edge
by Darynda Jones
Series: Charley Davidson #6
Also in this series: Second Grave on the Left, Third Grave Dead Ahead, Fourth Grave Beneath My Feet, Fifth Grave Past the Light
Publisher: St. Martin
on May 20, 2014
Genres: Paranormal Romance, Urban Fantasy
Purchase: Amazon

Few things in life can come between a grim reaper and her coffee, but the sexy, sultry son of Satan is one of them. Now that Reyes Farrow has asked for her hand, Charley Davidson feels it's time to learn more about his past, but Reyes is reluctant to open up. When the official FBI file of his childhood abduction lands in her lap, Charley decides to go behind her mysterious beau's back and conduct her own investigation. Because what could go wrong? Unfortunately, another case has fallen into her lap—one with dangerous implications. Some very insistent men want Charley to hunt down a witness who is scheduled to testify against their boss, a major player in the local crime syndicate. If Charley doesn't come up with an address in 48 hours, the people closest to her will start to disappear. Add to that a desperate man in search of the soul he lost in a card game, a dogged mother determined to find the ghost of her son, and a beautiful, young Deaf boy haunted by his new ability to see the departed as clearly as he sees the living, and Charley has her hands full. The fact that Reyes has caught on to her latest venture only adds fuel to the inferno that he is. Good thing for Charley she's used to multi-tasking and always up for a challenge…especially when that challenge comes in the form of Reyes Farrow.
I consume these books on release day and then suffer withdrawal. Humorous, sexy and crazy I cannot get enough of this urban fantasy.
Honorable Mentions
All of these titles are worthy of a slot in my top ten:
Lamb To The Slaughter By Karen Ann Hopkins, A Barricade In Hell By Jaime Lee Moyer, Sweetest Mistake By Candis Terry, Allegiance By Susannah Sandlin, One Night More By Mandy Baxter
For other adult favorites from 2014 be sure and check out my Top Ten Audiobooks for 2014.