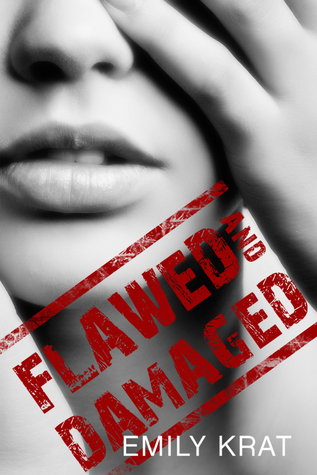 Flawed and Damaged
by Emily Krat
Series: Damaged Hearts, #1
Genres: Contemporary Romance
Source: Author
Purchase*: Amazon *affiliate
Rating:
Two people haunted by their past… The collision of two damaged hearts… Meet Elizabeth Williams. She is at the airport on an important work assignment. If everything goes smoothly, after three years of hard work, she'll get a promotion and a much-needed raise. Elizabeth is putting her life back on track after it was ripped out from under her feet four years ago when she lost her parents along with all her dreams. Standing here, she believes her life is going to change for the better any moment now. Nothing can go wrong, right? Meet Ryan Price. He came to Moscow on business. Right now, Ryan is standing at the airport looking at a 'present' from his brother, judging by the sign a beautiful young woman is holding. Damn his brother for not cancelling this arrangement as Ryan asked. Miscommunications and misunderstandings and a brilliant but painful love story begins. There will be a scary flight, lovely breakfasts, long evening conversations, sharing a secret or two, discovering one another, a lot of laughter, tender moments and some tears, a fight and, of course, the I-am-ready-for-the-end-of-the-world kiss. Somewhere along the way, they won't be able to fight their feelings any longer. For the first time in his life, Ryan will experience a different shade of lust. And for the first time in her life, Elizabeth will have to trust despite all of the times she has been hurt. Will these two wounded lost souls find love, peace and comfort in each other or will they just break each other more? Is it a train wreck of a love story or a happily ever after?
Flawed and Damaged is the debut new adult novel for Emily Krat and first in the Damaged Hearts series. While dubbed new adult, the male protagonist is slightly older and the female heroine is out in the world force in Moscow. It was a fun, fast-paced novel that while not without flaws kept me entertained.
Caffeinated Aspects:
The tale tells place in Moscow, Paris and other European locations that I found delightful.
Our protagonist is Elizabeth Williams an American who found herself orphaned at seventeen and flying to Moscow to live with her maternal grandmother. She made friends and found a home here, despite missing her parents. Instead of college, she entered the workforce when her gran developed Alzheimer.
Ryan Price has a chip on his shoulder, and now runs his father's hotel corporation. He is driven, but a misunderstanding introduces Elizabeth into his life and his world, goals and perspective are about to be upended. I love when a focused, goal oriented, stubborn, and driven character sees growth. Ryan was likeable even if occasionally I wanted to slap him. From the beginning we aren't fooled and can see the soft caring man beneath the cool façade.
The romance is hot and at times intense but wrapped gently in tender and humorous moments. When you have two flawed characters, things tend to be a little complicated but the relationship was a slow build, which I know folks will appreciate.
Told from dual perspective this helped create a closer connection to the characters. The series looks like it will continue with the same characters; even though this could have concluded with book one. I am hoping we get stories on other characters, such as his brother *oh-la-la*, and Elizabeth's friend.
Decaffeinated Aspects:
Elizabeth was raised in the US with English being her native tongue and speaks Russian fluently. However, in her perspective the writing sounded more like someone who was born Russian-speaking English. It may be that the author herself has another native tongue. Although Ryan's perspective didn't have these weird sentence structures, so I am a tad confused. At any rate, it wasn't a huge issue, it just pulled me from the story from time to time and had me questioning why.
Both Elizabeth and Ryan at times annoyed me with some of their behavior and interactions. This is what made this NA, and I would have liked to have seen less of this, and have this be an adult novel. At times Elizabeth still acted seventeen, and not like someone who has been through so much and is a fighter. It was a disservice to her as a character.
Dual perspective is something I love, but Krat often shared the same scene in both character's perspective slowing the pace. A good editor and some scene cuts would have tightened this up, and taken care of the language issue I mentioned.
Overall, Flawed and Damaged was a moving story with characters I came to care about.
Related Posts