The makers of the Beam N Read LED3  hands free light asked me if I would like to test their product and share it with my readers. I love to read into the wee hours, as I am firm believer in the "just one more chapter" mantra. I usually read at night with my Nook HD, but there have been many nights I am reading a physical book and I am often annoyed they don't come with a nightlight. Not wanting to disturb my husband I am often forced to leave the comfort of my warm, soft bed to finish those chapters. Have you ever sat on the floor in the bathroom to finish those last chapters? I have! I spent the last thirty days testing the Beam N Read both for my comfort and those of the man snoring rather loudly beside me…..
The Beam N Read is a hands Free LED3 light that allows you to adjust the length for reading whether you are sitting or lying down in bed. It is battery operated offering 120 hours of hand free reading. Unlike some reading lights such as clip ons, and those annoying head gear lights, it has a wide light that illuminates the entire book from hardcover to paperback. It will even work for the older eReaders. The kit contains a clip on red filter allowing you to soften the light.
I loved the adjustable strap, and how well constructed the unit is. It is easily switched on and off by flipping the light into position. The light can be flipped into a few positions directing the light both up and down. The unit is lightweight and sat comfortably on my chest. It requires 4 AA batteries and with daily use I have yet to change them.  My son pointed out it would also be useful when working on small projects and I used it when trying to remove a tiny splinter from my finger. I am also delighted to report that my hubby was able to continue his work sawing down forests.
The makers of Beam N Read also offer a larger Beam N Read LED6 Deluxe Light. It has an extra wide light with night vision filter and a Fresnel Magnifier that is perfect for crafts. My mother enjoys needlepoint, quilting and puzzles. As a diabetic her eyesight isn't what is once was and she struggles in any kind of low light. The larger Beam N Read allows her to work hands free and is less stressful on her eyes when using the magnifier. The magnifier clips directly to the Beam N Read and is extra large allowing her a greater work area.
Learn More About the Beam N Read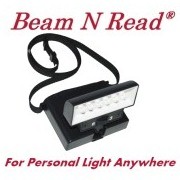 ASF Lightware Solutions
Website|Facebook|Pinterest
The Beam N Read is perfect for readers and crafters and is reasonably priced.The smaller unit is just under twenty dollars and the larger under thirty. You can purchase them on the Beam N Read Website or at Amazon. With Christmas less then 6 months away, these would make fantastic stocking stuffers for everyone on your list.