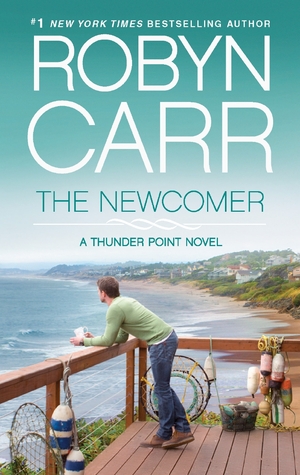 Newcomer
by Robyn Carr
Genres: Contemporary Romance
Source: Publisher
Purchase*: Amazon *affiliate

Single dad and Thunder Point's deputy sheriff "Mac" McCain has worked hard to keep everyone safe and happy. Now he's found his own happiness with Gina James. The longtime friends have always shared the challenges and rewards of raising their adolescent daughters. With an unexpected romance growing between them, they're feeling like teenagers themselves-suddenly they can't get enough of one another.  And just when things are really taking off, their lives are suddenly thrown into chaos. When Mac's long-lost-and not missed-ex-wife shows up in town, drama takes on a whole new meaning. They're wondering if their new feelings for each other can withstand the pressure...but they are not going down without a fight.
I was excited to return to the small town of Thunder Point in Robyn Carr's second novel The Newcomer. Filled with fleshed-out characters, real-life drama, and a touch of romance I easily consumed this and look forward to visiting again. Three-word review: small-town, love, friendship
When we return to Thunder Point, Cooper is settling into his new beachfront property and the bar is up and running. He is still dating Sarah and life is good till life throws them a curve-ball. Mac McCain the deputy sheriff has started dating Gina James and the two are happily juggling their romance and the children but things are about to get rocky. With a tender romance budding can these two survive. The tale that unfolds kept me on edge as Carr touches on some sensitive subjects and opens old wounds.
One of the things I enjoy about Carr's small-town series is the way she continues to flesh-out and molds her characters. We met Mac, Gina and their families in the previous book but this time we get inside their heads and watch them handled difficult situations. It makes them endearing.  A character I loathed in the first book reveals a softer side. Sarah is at a crossroads and must make decisions and we see her struggle. Cooper's life changes and watching how he handles things made me fall for him even more. I really want to see their relationship develop further and I am hoping we see more in the next novel. The romance this time was very PG and I missed those heated scenes. The thread concerning Gina's daughter was gut-wrenching and realistic. I love how Carr makes me connect and experience what the characters are feeling and why.
A lot of the residents in Thunder Point are having problems and facing decisions. Carr seamlessly delivers all of these carefully woven threads. Each thread is well developed and unravels naturally. You cannot help but become invested in the characters and this added a delightful suspense to the tale as I searched for a happy ending. I appreciated Carr's research into some of the difficult situations her characters faced and the realistic way they were portrayed. While I haven't yet felt the passionate connection to Thunder Point that I felt with Virgin River, I am slowly becoming caught up in the characters and cannot wait for book three.
Fans of small-town series with fleshed-out realistic characters are sure to enjoy The Newcomer and Thunder Point series. The Hero, the next book is due to release in August 2013.
Stay Caffeinated!
Never miss a post by adding Caffeinated to your Inbox
Your email is not shared and you can unsubscribe at any time.
Related Posts