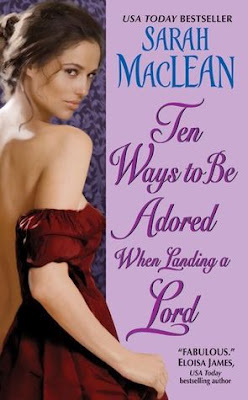 Ten Ways to Be Adored When Landing a Lord
by Sarah MacLean
Series: Love by Numbers #2
Genres: Historical Romance
Source: Purchase
Purchase*: Amazon *affiliate
Rating:
Lord Nicholas is a paragon of manhood. And his eyes, Dear Reader! So blue!" Pearls & Pelisses, June 1823. Since being named on of London's "Lords to Land" by a popular ladies' magazine, Nicholas St. John has been relentlessly pursued by every matrimony-minded female in the ton. So when an opportunity to escape fashionable society presents itself, he eagerly jumps—only to land in the path of the most determined, damnably delicious woman he's ever met! The daughter of a titled wastrel, Lady Isabel Townsend has too many secrets and too little money. Though used to taking care of herself quite handily, her father's recent passing has left Isabel at sea and in need of outside help to protect her young brother's birthright. The sinfully handsome, eminently eligible Lord Nicholas could be the very salvation she seeks but the lady must be wary and not do anything reckless…like falling madly, passionately in love.
Ten Ways to Be Adored When Landing a Lord is the second book in Sarah MacLean's Love By Numbers series. I absolutely love this series and the characters MacLean creates. Once again, I found myself swept away and consumed this in a single afternoon. I laughed, giggled, swooned and cried. Fans of historical romances, strong woman, and swoon-worthy men do not want to miss this series.
The local woman's rag has set out to tell the young women of the ton how to snag a lord. They first begin by naming the top "Lords of the Land". When Nicholas St. John finds himself on the list it completely unnerves him. Women are following him everywhere and the invitations are flowing. When he is asked by a friend to find his runaway sister he jumps at the chance to escape. Meanwhile, twenty-four-year-old Lady Isabel Townsend is in a pickle. She is the daughter of a titled and deplorable man. The type of man who would gamble away his own daughter. Her father has passed and left the Minerva estate in financial shambles. Since her mother's passing, she has been harboring troubled women in her home. She offers them a safe haven and honest work. She is passionate about helping them, but money is tight. She resigns herself to selling all of her mother's marble pieces. When Isabel and Nicholas's paths collide, the world-tilts on its axis. The tale that unfolds is sweet, hilarious, delicious and at times bittersweet.
The characters are colorful, strong, flawed, opinionated and oh so lovable! While the sky is falling around Isabel, she keeps her chin up and carries on. She is afraid to trust or lean on anyone; especially a man. She has vowed to never give her heart away. Nicholas is in a word – yummy and like his brother he has been emotionally damaged. His weakness has always been damsels in distress. Isabel can handle herself but he finds himself wanting to help. He senses the burden she carries and longs to scoop her up and hold. He is drawn to her strength and beauty. Their romance was sweet, fragile and left me breathless. I worried, they might not get their happily-ever-after. I loved the ladies residing under Isabel's roof and it is quite apparent they all adore her. They think Nicholas is exactly what Isabel needs. I loved Nicholas's friend Turk. He understands Nick and at times was hilarious. Of course, we get to see Callie and Gabriel *swoons* again.
MacLean accurately depicts the circumstances women found themselves in during this era. By helping them Isabel puts herself and her young brother at risk. I adored the authors of the rag; Pearls & Pelisses. Each chapter begins with their advice, and I found myself giggling at their outlandish suggestions. I loved Nicholas's story and so wanted him to be happy and loved. I became completely caught up in this tale and while the first book in the Love by Numbers is still my favorite, I was delighted.
I highly recommend the Love by Numbers series and think you will find Ten Ways to Be Adored When Landing a Lord a welcome addition to your historical romance collection! Next month I will be bringing you the third novel in this series, Eleven Scandals to Start to Win a Duke's Heart. I have added MacLean to my favorite authors' list and look forward to reading and sharing more of her novels.
Related Posts