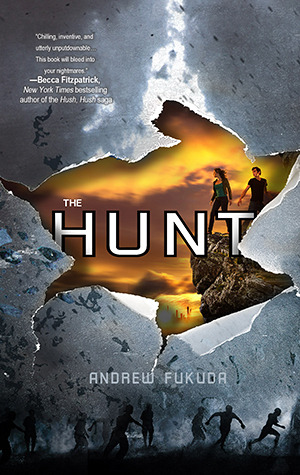 The Hunt
by Andrew Fukuda
Series: The Hunt #1
Genres: Dystopian
Source: Publisher
Purchase*: Amazon *affiliate
Rating:
Gene is different from everyone else around him. He can't run with lightning speed, sunlight doesn't hurt him and he doesn't have an unquenchable lust for blood. Gene is a human, and he knows the rules. Keep the truth a secret. It's the only way to stay alive in a world of night—a world where humans are considered a delicacy and hunted for their blood. When he's chosen for a once in a lifetime opportunity to hunt the last remaining humans, Gene's carefully constructed life begins to crumble around him. He's thrust into the path of a girl who makes him feel things he never thought possible—and into a ruthless pack of hunters whose suspicions about his true nature are growing. Now that Gene has finally found something worth fighting for, his need to survive is stronger than ever—but is it worth the cost of his humanity?
The Hunt by Andrew Fukuda is the first in a brilliant new series. Fukuda has created a terrifying world in which vampires rule and humans are almost extinct. I consumed this dark tale in a few hours and it quickly became one of my favorite reads for 2012. Gone are the vampires that sparkle! In Fukuda's dystopian world we hide among these vicious killers. This tale was fast-paced, horrifying and delicious!
When the tale begins we meet seventeen-year-old, human protagonist Gene. He is in high school and trying to blend in. He knows the rules, his father taught him well. One slip and he will be devoured. Gene lives in a vampire world, where the day begins at dusk and ends at sunrise. He has been on his own since his father was bitten years ago. He is brilliant but is careful not to stand out. Every day is a challenge and only during daylight hours can he be himself. While at school it is announced that the ruler will address the nation. This causes immediate salivating and mass speculation amount the vampire students. The last time the ruler address the nation was ten years ago when he announced a Heper Hunt. This is a huge event. Several heper's (humans) are released into the wild, and a select few chosen by lottery get to hunt and devour them. *Gulp* You guessed it, there will be a new Heper Hunt and Gene as well as Ashley a young girl from his school are chosen to participate. Before Gene can even think, he taken along with seven others to the Heper Institute. Here they go through training, attend galas and prepare for the hunt. The tale that unfolds is splendid, steeped in horror and riddled with tension and fear. I was captivated from page one, quoting the book by chapter three and running to the computer to check for book two's release date by the end. The ending wasn't really a cliff-hanger but the last sentence just about blew my friggin mind.
I absolutely without a doubt loved the human characters. Fukuda does an extraordinary job of giving them depth and believability. The complications that arise from living in a vampire world are astronomical and his attention to all these quirks was quite enthralling. His depiction of this particular species of vampires and their habits was entrancing. The scene where an adolescent vampire gets her first kiss was both creepy and mind-boggling. Fukuda created a complete language for the vampires. The way they expressed emotions and communicated with each other was fascinating. The vampires themselves are incredibly creepy and at times behaved in an animalist way that I found terrifying. The romance that develops is secondary to the tale but sweet and genuine. I really connected with these characters. Their hopes, fears, and desires became mine.
We are given very little detail about how the world came to be populated almost entirely by vampires and quite frankly I didn't really care. The world Fukuda creates is unique, original and detailed. Parts of it were horrifying and others made me laugh. I found the education on why Heper's sing absolutely hilarious. His perception of how another species would perceive us was totally amazing. The Heper's in captivity emulate humanities ability to survive and adapt. The choices Gene and Ashley must face are extraordinary and kept me completely engrossed. I love when a book consumes you, and this one left me spent and wanting more. The author's writing style was tight. He gave attention to detail while creating a tale that flowed exquisitely.
I highly recommend The Hunt to fans of dystopian and fantasy. Can you tell I like this one?*scratches wrist* Novels like this are why I became such an avid reader. There is nothing like the high a good book delivers and The Hunt left me well satisfied and craving more. I have added Andrew Fukuda to my auto-buy list and plan to pick up his first novel Crossing. I am anxiously awaiting book two of the Hunt series and will deliver information to you, as I receive it.
Related Posts