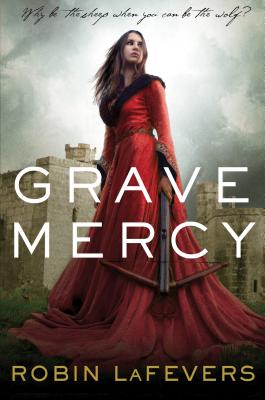 Grave Mercy
by Robin LaFevers
Series: His Fair Assassin #1
Genres: Fantasy, Historical Fiction
Source: Publisher
Rating:
Why be the sheep, when you can be the wolf? Seventeen-year-old Ismae escapes from the brutality of an arranged marriage into the sanctuary of the convent of St. Mortain, where the sisters still serve the gods of old. Here she learns that the god of Death Himself has blessed her with dangerous gifts—and a violent destiny. If she chooses to stay at the convent, she will be trained as an assassin and serve as a handmaiden to Death. To claim her new life, she must destroy the lives of others. Ismae's most important assignment takes her straight into the high court of Brittany—where she finds herself woefully under prepared—not only for the deadly games of intrigue and treason but for the impossible choices she must make. For how can she deliver Death's vengeance upon a target who, against her will, has stolen her heart?
Grave Mercy by R.L. LaFevers is the first novel in a new trilogy entitled His Fair Assassin. Within these five hundred and fifty-eight pages you will be transported back in time and taken on a journey that contains all the key elements of a great tale. There is suspense, murder, a heroine, a hero and a villain. Stir in a little history, the God of Death, supernatural elements, wickedly cool assassin techniques and you have a tale that will grab you from page one. Thus, was my experience with Grave Mercy.
The protagonist is sixteen-year-old Ismae. The child of a turnip farmer, who has despised her since birth. Eager to be rid of her, he marries her off for a price. When her new husband, a beast of a man bids her to undress, his eyes fall to the scar that runs down her back and runs screaming to the priests to have his marriage annulled. She finds sanctuary at the convent of St. Mortain. Here she learns what she is and is offered the chance to serve as a handmaiden to death. She will train to become an assassin. Having nothing to lose and finally feeling like she belongs, Ismae readily accepts. Here she learned the art of being an assassin is trained in political history and all manner of skills. On her second assignment, she encounters Duval who is the brother of the Duchess of Brittany. He is there to question the man Ismae has just assassinated. Duval then appears at the convent demanded answers. The reverend mother informs Ismae that she will be accompanying Duval to protect the Duchess of Brittany. The tale that unfolds was absolutely riveting, the history, the suspense, the plots…Oh the plots…it was wonderful! While I determined who the villain was, a lot of key players went back and forth on my list. Watching the events unfold and seeing Ismae and Duval work together kept me turning the pages at a maddening pace.
LaFevers not only takes us back in history with her deliciously suspenseful tale, she provides us with fascinating characters with depth and humor. Ismae is bright, witty, fearless, independent, and wants to perform her duties to God and Country. Her life has not been easy and it's wonderful to watch her grow, make decisions for herself and understand not everything is black and white. Duval is dedicated to protecting his sister at all costs, burdened by being the bastard son of the late king, he tries to be true. Together he and Ismae must determine who is in league with the French. His trusted friends Beast, and DeLornay were delightful and I grew attached to them. Ismae's friends Sybella and Annitha from the convent were equally intriguing and I loved their side stories.
While LaFevers herself states the tale is not historically accurate she weaved enough truth into the novel to make it believable and it made for an intriguing tale. While the tale is longer than most young adult novels on the market, it was well written and evenly paced. I drank in every page and was sadden to see it end. The romance was delightful and genuine. This was not a case of instant-a-love, but rather one that developed out of respect and trust.
I highly recommend Grave Mercy to fans of historical fiction, fantasy, suspense and romance laced with supernatural elements. I am anxious to get my hands on the second novel entitled Dark Triumph. This will tell the story of Sybella. It is expected to be published in the spring of 2013. Grave Mercy will be published on April 3, 2012, and be available in paper and eBook formats. R.L. LaFevers has over sixteen published works including the Theodosia Throckmorton series and Nathaniel Fludd Beastologist series. I plan to check out more of her work and have added her to my list of must-read authors.
Cover: Love it! The dress, the crossbow and the castle in the background set the mood for this tale…it's brilliant 🙂
Related Posts