Sophia Rose is here to cool you down with a holiday RomCom. Lovelight Farms by B.K. Borison is the first contemporary romance in the Lovelight series. Grab an iced coffee and check out her thoughts on this feel-good romance.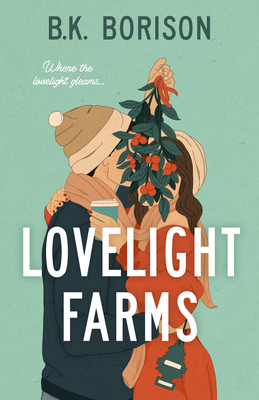 Lovelight Farms
by B.K. Borison
Series: Lovelight #1
Genres: Contemporary Romance
Source: Publisher
Purchase*: Amazon | Audible *affiliate
Rating:

Heat Level:
Where the lovelight gleams …

A pasture of dead trees. A hostile takeover of the Santa barn by a family of raccoons. And shipments that have mysteriously gone missing. Lovelight Farms is not the magical winter wonderland of Stella Bloom's dreams.

In an effort to save the Christmas tree farm she's loved since she was a kid, she enters a contest with instafamous influencer Evelyn St. James. With the added publicity and the $100,000 cash prize, she might just be able to save the farm from its financial woes. There's just one problem. To make the farm seem like a romantic destination for the holidays, she lied on the application and said she owns Lovelight Farms with her boyfriend. Only … there is no boyfriend.

Enter best friend Luka Peters. He just came home for some hot chocolate, and somehow got a farm and a serious girlfriend in the process.
Sophia Rose's Review
A Christmas tree farm as a holiday destination was her dream, but a series of bad circumstances have the rustic New England farm barely staying afloat. Only a Hallmark-style holiday miracle will save it. A social influencer's small business contest, a fake boyfriend scenario and a little bit of luck are all Stella needs to turn things around. BK Borison is a new to me author, but I barely made it out of the first chapter before I knew I would have a good time with Lovelight Farms.
Lovelight Farms is the first in a series of small town standalone romantic comedies and features awkward, adorable Stella Blooms who bought into a dream with a rundown Christmas tree farm and her long-time best friend now acting as fake boyfriend, Luka Peters. Everyone in town and their circle know about the sparks coming off Stella and Luka, but Stella's fears of abandonment and fear of losing her bestest of best friends has her settling for this one week of pretend with Luka and convincing herself that afterward things would carry on as usual- quirky little pine air freshener gifts left for her to find, Italian cooking in her kitchen, and all. Fooling Evelyn St. James and winning the prize are Stella's goals, but she wonders what Luka is getting from all this when he seems to be all in playing her boyfriend and helping as a partner around the farm.
Lovelight Farms has all the hallmarks of a solid holiday romantic comedy. I will admit to wanting to smack Stella upside her deeply denying head for letting her fear keep her from such a good thing right through to the end and the vague and somewhat unbelievable background of her life heretofore had to be a 'let go and enjoy the story'. So many wonderful scenes including some great swoony ones play out and there was a light mystery involving sabotage at the farm. The friends to lovers romance is at the heart, but small town quirks, Stella trying to keep all the balls in the air including the big lie she is keeping from Evelyn and another from her friends about the state of the farm, engaging friends and employees in irascible Beckett and sweet Layla, and all the friend memories and traditions she's established with Luka made this deeply satisfying.
I'm so glad to note that the series continues with the others getting their own romances with the farm and town at the heart of it all. Small town romcom fans should definitely get in on this sparkling feel-gooder.

Stay Caffeinated!
Never miss a post by adding Caffeinated to your Inbox
Related Posts