Sophia Rose has a review for A Most Excellent Understanding by Wade H Mann. Fans of Austen's Pride and Prejudice will want to check out Mann's charming variation.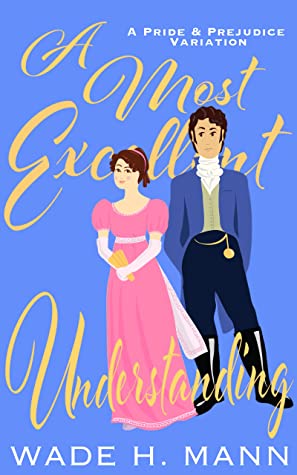 A Most Excellent Understanding
by Wade H Mann
Genres: Historical Romance
Source: Publisher
Purchase*: Amazon | Audible *affiliate
Rating:

Heat Level:
The first time I rejected a proposal of marriage, my suitor would not take 'no' for an answer, so I have resolved to be more forceful in any future ones.
ELIZABETH BENNET IS A LADY of decided opinions—especially about a certain Mr Darcy. When Colonel Fitzwilliam reveals that gentleman as the cause of her sister's romantic woes, Elizabeth does not become angry or distraught. Instead, the news offers some relief, because it allows her to finally understand everything that happened in Hertfordshire the previous autumn. With this new knowledge, she acts to remove herself from the disagreeable company at Rosings.
FITZWILLIAM DARCY FINDS HIMSELF thoroughly confused by Elizabeth's abrupt departure on the very day he thought to propose. Surprisingly, his cousin is reluctant to offer enlightenment as Darcy pursues Elizabeth to London, where he encounters a less than forgiving pair of Bennet sisters. Darcy must overcome his own reserve to explain himself, which is not easy as others require their share of conversation—especially as it concerns the Bingleys and any future alliance between Darcy and Elizabeth.
IN THIS HARD-FOUGHT BATTLE of wits, can Darcy find the words to prove himself worthy of Elizabeth's good opinion and win her heart, or will she remain firm in her most decided opinion of the master of Pemberley?
Sophia Rose's Review
Have you ever wondered how the story would have went if the romance pair had simply sat down and talked out their difficulties? New to me author, Wade H Mann, explores that very idea in his charming, gentle Pride and Prejudice variation tale.
What if wealthy, connected, very eligible and somewhat proud gentleman Fitzwilliam Darcy discovered his true love's feelings about him were quite the opposite before he ever approached her with a marriage proposal? What if he immediately follows up the bad impression he has made with a sincere apology and makes restitution? Mr. Darcy gets a reset and a new chance at romance with the spirited Miss Elizabeth Bennet.
A Most Excellent Understanding is an apropos title for this story. For all of us who have ever hated upon the 'miscommunication' trope for romantic conflict, this book is the antidote. The romance pair actually sit down and talk and hash out their mistaken impressions, their mistakes, and their feelings. I was all agape and enjoyed it thoroughly as a refreshing change and, as a result, quite the lowest angst romance I've read in some time.
And, it wasn't just the romance pair setting things right. I loved seeing Elizabeth's gentle, kind oldest sister show that Miss Jane Bennett is more than a pretty face and expects to be respected as such. Whew, this gal took it to Darcy, to her sister, and most certainly to the man who broke her heart and thought a smile and charm would win back her good graces.
The book is full of dialogue and short on action, but the fun way the characters develop and get through their issues kept it from being bland or lagging. I enjoyed seeing the ripple effect of Darcy approaching Elizabeth and Jane to resolve their issues to this, leading to further past people and issues that were dealt with in similar manner. I cheered when that slimy villain Wickham and the snide Miss Bingley got their comeuppance and crossed my fingers that a certain secondary romance would happen and it did.
All in all, it was entertaining and charming. I had a good time with where this easygoing, quick-read story went. For those who love an abundance of communication, sassy gals, and sweet romancing of classic Austen characters, I recommend you come to A Most Excellent Understanding.

Stay Caffeinated!
Never miss a post by adding Caffeinated to your Inbox
Related Posts