The One Who Loves You by Pippa Grant is the first audiobook in the Tickled Pink romcom series featuring the Lightly family. First up is thirty-year-old Phoebe Lightly, who has spent her life working towards running the family empire, but all that changes when her grandmother has a near-death experience and sets Phoebe's world on end.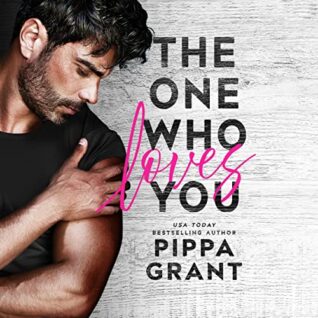 The One Who Loves You
by Pippa Grant
Series: Tickled Pink #1
Narrator: Savannah Peachwood, Sebastian York
Purchase*: Amazon | Audible *affiliate
Rating:

Heat Level:

Narration: 4 cups Speed: 1.3x

From USA Today bestselling author Pippa Grant comes a fabulously sharp-witted romantic comedy about a socialite's fall from elitist grace to backcountry purgatory—and her accidental tumble into love.

If the Upper East Side had an evil twin, it would be Tickled Pink, Wisconsin. This run-down, backwoods town isn't worthy of the footprint of my Louboutins, never mind all of me.

But when my grandmother has a near-death experience and realizes we Lightlys can't buy our way into heaven, she relocates the family to Tickled Pink to work on improving our souls. And that's how I trade my heiress existence for gigantic bugs, dishwater coffee, and a cranky single dad named Teague Miller.

Teague spends his days fishing, raising his spunky teenager, and after an unfortunate incident involving cheese curds, living rent-free in my head. The one thing he and I can agree on is that I don't belong here. He's willing to help me escape—until the unexpected happens.

I kind of like him. I might even more than like him.

But am I ready to give up the life I adored for a man I love to hate?
From New York to small-town Wisconsin, this tale has it all. Pippa Grant shared a delightful, heart-felt tale with character growth, humor and filled with sweet, swoon-worthy moments.
The town of Tickled Pink was delightful and the first time Phoebe meets cranky single dad, Teague Miller well let's just say it was like oil and water. I was intrigued and slipped right into the story.
What began as a motive to achieve her goals quickly transformed into an awakening. Phoebe got a look at who she was, where she is and what she wants to become. It was wonderfully done. Teague has his own transformation to undergo. The man has secrets, and doesn't like change. His entire focus has been his daughter, who is absolutely delightful.
The romance was a slow-burn with a little sizzle as Grant peeled back their layers, exposed them and built trust and respect as their attraction intensified.
The Lightly family is frankly a mess. I admit I am looking forward to getting the rest of their stories. Gigi is a hoot and seeing the family living in and restoring the old high school was admittedly fun. From pranks to softball games, Grant made me laugh.
Savannah Peachwood and Sebastian York deliver the narration dual narration, switching back and forth with each POV. Each is wonderful and did a great job of bringing Teague and Phoebe to life. However, I must admit recent duet narrations have me thinking I would have enjoyed it even more had York done all the male voices and Peachwood the female.
This was a fun romance, and I look forward to the next audiobook. Fans of Lauren Blakely, Amy Daws and Meghan Quinn will enjoy this one.
*Available to listen on Kindle Unlimited

Stay Caffeinated!
Never miss a post by adding Caffeinated to your Inbox
Reading this book contributed to these challenges: