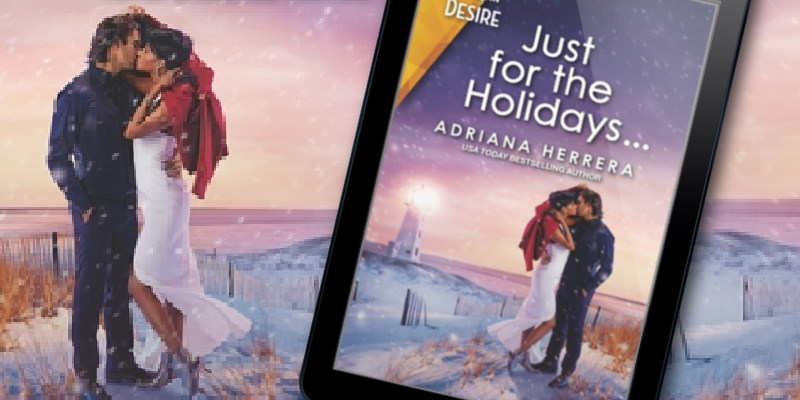 Please welcome Sophia Rose to the blog with her review of Just For the Holidays by Adriana Herrera. This is the second standalone romance in the Sambrano Studios series. Curl up with a cup of cocoa and check out her thoughts on this spicy holiday romance.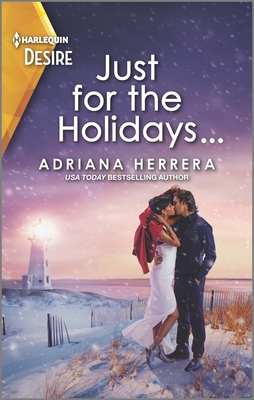 Just For the Holidays
by Adriana Herrera
Series: Sambrano Studios #2
Genres: Contemporary Romance
Source: Publisher
Purchase*: Amazon | Audible *affiliate
Rating:
Being snowbound at Christmas leads to holiday sparks in this Sambrano Studios novel by USA TODAY bestselling author Adriana Herrera.

She's snowed in at Christmas… with a man she must resist!

Casting director Perla Sambrano knows Gael Montez is the perfect actor for her new film project. As long as she forgets his oh-so-tempting allure and keeps her heart out of it. Because their chemistry's no act and she needs to be careful…

The Montez men hurt the women they love. Or so Gael believes. Keeping things professional with Perla is the only way to protect her. Until a snowstorm strands them together, leading to an unplanned Christmas fling that lands them both on the naughty list!
Sophia Rose's Review
A Hollywood A-Lister has made it to the top, but did he give up his soul to get there? A Puerto Rican Christmas with family and snowed in with the woman he left behind might be just the holiday magic he needs. A new to me author, Puerto Rican heritage, a second chance romance, and the world of movie-making all made me tickled to take this one up.
Gael Montez is at the top of his game playing big franchise roles and getting offered some extremely lucrative parts, but more and more, he is unfulfilled and his creative soul is stifling. He doesn't just want to be the token brown actor in the show, but wants to work some Latin America projects and get back in touch with his roots. Unfortunately, the big dream project for him acting his Puerto Rican hero, a freedom fighter, depends on being in contact with the woman whose heart he broke back in college when his career took off and his uncle advised him to drop the 'entanglement'. A snowstorm and his mother's need to see him happy might just be the catalyst needed to help him put away his fears about Montez men being cursed, his uncle's lucrative ambitions, and to reach toward the woman he never stopped loving.
Perla Sambrano knows Gael is the perfect person for the part so determines to put the past behind her just as she did her old bland style and go to his place in the Hamptons to sign him for the part before heading out for Christmas with her sister in Puerto Rico. Gael loves his mother, who excitedly but mistakenly believes Gael and Perla are back together. Perla ends up pretending they are together so he can see his mother happy over the holidays in exchange for him bucking against his uncle who will do anything to keep Gael from passing up a big movie contract of his choosing and taking the role with her family's studio. A storm makes the charade go on longer than planned, the old love has blossomed once again, and now she has to decide if she will trust Gael with a heart he has already broken once before especially since he seems to be fighting his own personal demons.
Just for the Holidays is a quick, engaging read. The pace was good, the characters and situation are developed and lead to a good crisis set against the holiday season. Loved the emphasis on holiday and family traditions as well as the film industry.
There is so much deliciousness- and I do mean delectably delicious because of, first of all, the food from pasteles to tres leche for Nochebuena (Christmas Eve) that the family assembles and eats with mama, grandma, Gael's sister, Gael, and Perla in the kitchen and during their party. Seeing Perla wow Gael with her new look, poise, and contentedness about her role in her family's company so different from the little mouse, she was back in college days when her domineering mother repressed her spirits. Seeing Gael work through the complicated life of a Latino actor who wants to see his own people represented well on the silver screen and wants to stretch his experiences and talent in acting beyond a one-string banjo superhero role.
At first, I was feeling testy about the way Gael coldly and calculatingly dumped Perla, but then I started to thaw toward him when I realized there was more to that situation including his issues with his own dad leaving the family and then interference from others who didn't want him with Perla. He knows he should have fought for them and now will do what he has to do to keep her in his life. It turned out so romantic and they are good together.
So, a slightly spicy, tasty, and engaging contemporary holiday romance that had me appreciating the author's writing and wanting more. Those who enjoy a quick read and want some holiday romancing Puerto Rican-style should definitely gift yourself this lovely one.

Stay Caffeinated!
Never miss a post by adding Caffeinated to your Inbox
Related Posts