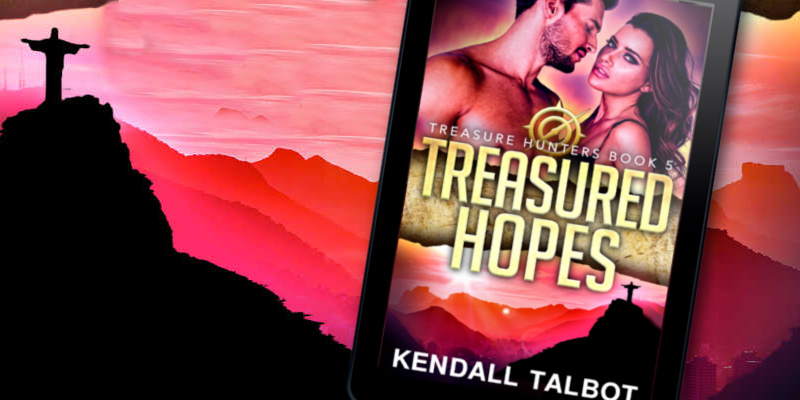 Sophia is back with the fifth novel in the romantic suspense series, Treasure Hunters. Today she is sharing her thoughts, Treasured Hopes by Kendall Talbot. Check out this romantic suspense series available through kindle unlimited.
Treasured Hopes
by Kendall Talbot
Series: Treasure Hunters #5
Genres: Romantic Suspense
Source: Author
Purchase*: Amazon *affiliate
Rating:

Heat Level:
Deadly secrets from a dark past leads to a lethal double cross in this action-packed romantic suspense.

Treasure hunter, Archer Mahoney, thrives on danger, but with his first child on the way, everything has changed. His fiancée's happiness hinges on finding her grandmother's priceless painting that was stolen by the Nazi's during WWII.
With his focus split between keeping Rosalina's inquisitive nature at bay and delving into a dark past that people will kill to keep buried, they head to Brazil's seedy underground

Armed with a yellowing letter dated during the war, Rosalina and Archer are thrust into a treasure hunt that scrapes the underbelly of human nature. But Archer finds out the hard way that there's always a price to pay and with danger lurking on every corner, they become trapped in a double-cross none of them saw coming.

Get ready for the adventure of a lifetime, with a happily ever after guaranteed. Treasured Hopes is book five in the steamy romantic suspense Treasure Hunters series, full of drama, danger, and passion. It features a strong heroine and the rugged-yet-mischievous millionaire who steals her heart.

Warning: For readers who might be triggered by sensitive subject matter, this book contains scenes which imply incest. It is not graphic, however readers sensitive to this should read with caution
Sophia Rose's Review
A lost family treasure is the goal for this trip and naturally the plans go awry, secrets come out, and an exotic adventure awaits the team. Kendall Talbot's Treasure Hunters series delivers on the thrills, the locales, the lively characters, and 'x' always marks the spot with her romantic adventures.
Treasured Hopes is the fifth of the Treasure Hunters series and the second in the new series arc. It doesn't make a good place to jump into the story.
After the biggest find Egypt has seen since King Tut's tomb was discovered, Rosalina, Archer, Jimmy, Ginger and Alex are primed to help Rosalina's Nonna go after a lost family painting the Nazis stole during WWII and seemed to have gotten it clear to South America. Nonna may be old, but she is determined to see this adventure through in person.
However, before they head to Brazil and the secrets of Ginger's family past, Archer and Jimmy are determined to steal back the Calimala Treasure. Little do they know that Massimo is still alive, and he's ready to wreck his revenge on them when they come for the treasure. Things look dire for the treasure hunting team, but they have been in tight situations before only now they have Nonna and then Rosalina is in the family way. Is it all worth it? They think so.
After just catching my breath from their Egyptian adventure, I was primed to press on with this engaging group of treasure seekers. Ginger's Nazi grandfather's diary is perused, Alex's historical research work is phenomenal, and Archer and Jimmy are up for anything. Rosalina has her reservations about Massimo and his stolen treasure, but even she is geeked to get out on the hunt for her Nonna's family heirloom. There was a brief intro, but then things were off to the races and I didn't want to stop reading.
I like how the historical background of the treasure hunt and even more so the fabulous settings like the Brazilian rainforest are right at the core. It is fun to see them set up their trips, track down the clues, and head into the thrilling wild of the jungle.
It was fascinating getting more background on Jimmy and, of course, seeing Ginger recover her standing with everyone after the secrets that came out in the last book. Two new characters, Rodrigo and Diego, surface and add to the rush. But Nonna was the one to have my heart through it all. That old gal hanged tough and made it through danger that had my hair on end plus it was obvious where Rosalina got her gift for cooking when Nonna took over the galley.
And lord, was it a rush. No one was safe and things got pretty dire. As it is, only some of the story resolved, but it was all left at a good spot to pause before the next series book. I can't recommend this series enough to those who like spice to their romance and suspense while on a wild treasure hunting adventure.

Stay Caffeinated!
Never miss a post by adding Caffeinated to your Inbox
Related Posts