Please welcome Sophia Rose to the blog today with a historical romance novella. Grab a cup of cocoa and see why The Longbourn Entanglement by Monica Fairview was such a treat.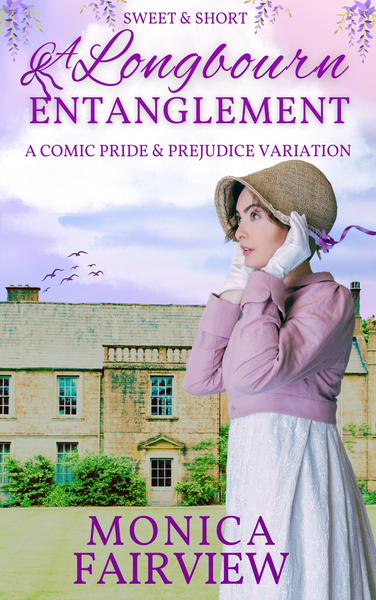 The Longbourn Entanglement
by Monica Fairview
Genres: Historical Romance
Pages: 151
Source: Author
Purchase*: Amazon *affiliate
Rating:
Elizabeth has a secret. If Darcy discovers it, will it spell the end of their fledgling romance?

When Mrs. Bennet falls ill after the Netherfield Ball, Mr. Darcy and Mr. Bingley postpone their trip to London to offer their assistance. But things are never what they seem. Before long, Darcy is entangled in a chaotic situation at Longbourn, and Elizabeth is faced with a thorny dilemma that could drive Darcy away from her forever.

Will Elizabeth and Darcy muddle their way through the mayhem, or is everything just too tangled for them to find love?

If you are looking for a sweet, frolicsome Jane Austen short read, this romantic comedy is just what you need.
Sophia Rose's Review
A comedy of errors ensues when an unwelcome proposal to one sister must be redirected toward another and a fabrication for the purpose gets out of hand, precipitating a new series of lies and a startling romantic possibility.
A Longbourn Entanglement is a novella-length Regency RomCom, something along the lines of a light, engaging Georgette Heyer novel though the characters are pulled from Jane Austen's Pride & Prejudice.
Mr. Darcy is prepared to decamp back to London and escape the temptation of sparkling country miss, Miss Elizabeth Bennet and he is determined to drag his amorous friend, Mr. Bingley, with him. Bingley has fallen hard for the gorgeous and serene eldest Miss Bennet, but Darcy is convinced that the romping, vulgar youngest sisters, their mother, and their connections with trade will do Bingley no favors.
But, before he can push Bingley into the carriage and be off, the silly Mr. Collins comes upon them with word of dire health at Longbourn. In spite of his desire to conquer his feelings, Darcy will not leave and will offer all he can to relieve Elizabeth's fear and stress over a parent's health collapse.
Meanwhile, Elizabeth isn't pleased that her mother pretended to have apoplexy and her sister caused it by wanting Mr. Collins, the future heir of their estate, to herself- not that Elizabeth wanted the fawning, silly man for herself. But, the lie grows as now they must hide the family antics from Mr. Darcy and Mr. Bingley and then the apothecary. How will she ever get it all untangled and without losing Mr. Darcy's respect and regard?
Not meant to be taken seriously, this was an old-style Regency romp that entertained with the hilarious plot points and had a budding romance tucked inside for good measure. Elizabeth formed a bad impression of Darcy because of his arrogance and her family caused him to shudder and want to avoid them in spite of his feelings, but Lydia's shenanigans put the pair on a new path and a second chance to form different impressions. It read quickly and was great light entertainment that I can heartily recommend to sweet historical romance fans who love a dollop of humor.

Stay Caffeinated!
Never miss a post by adding Caffeinated to your Inbox
Related Posts