Fantasy from urban to romantic fantasy is one of my favorite genres. I have a tendency to buy them in several formats so I can enjoy them again and again. Check out five fantasy releases I've got pre-ordered.
Trailer Park Trickster by David R. Slayton
They are my harvest, and I will reap them all.
Returning to Guthrie, Oklahoma for the funeral of his mysterious and beloved Aunt Sue, Adam Binder once again finds himself in the path of deadly magic when a dark druid begins to prey on members of Adam's family. It all seems linked to the death of Adam's father many years ago – a man who may have somehow survived as a warlock.
Watched by the police, separated from the man who may be the love of his life, compelled to seek the truth about his connection to the druid, Adam learns more about his family and its troubled history than he ever bargained for, and finally comes face to face with the warlock he has vowed to stop.
Meanwhile, beyond the Veil of the mortal world, Argent the Queen of Swords and Vic the Reaper undertake a dangerous journey to a secret meeting of the Council of Races…where the sea elves are calling for the destruction of humanity.
Release Date: October 12, 2021 Amazon | Audible
I really enjoyed David's debut novel & the first book in the Adam Binder series, White Trash Warlock. Not only is this an LGBTQ urban fantasy series, but it offers snark, unique magic, fae and a hero you'll connect with. I listened to Michael David Axtell narrate White Trash Warlock and I am hoping he'll be performing Trailer Park Trickster as well. I love the titles of this series. Read my review of White Trash Warlock.
Paper & Blood by Kevin Hearne
From the New York Times best-selling author of The Iron Druid Chronicles comes book two of an "action-packed, enchantingly fun" (Booklist) spin-off series, as an eccentric master of rare magic solves a supernatural mystery Down Under!
There's only one Al MacBharrais: Though other Scotsmen may have dramatic mustaches and a taste for fancy cocktails, Al also has a unique talent. He's a master of ink and sigil magic. In his gifted hands, paper and pen can work wondrous spells.
But Al isn't quite alone: He is part of a global network of sigil agents who use their powers to protect the world from mischievous gods and strange monsters. So when a fellow agent disappears under sinister circumstances in Australia, Al leaves behind the cozy pubs and cafes of Glasgow and travels to the Dandenong Ranges in Victoria to solve the mystery.
The trail to his colleague begins to pile up with bodies at alarming speed, so Al is grateful his friends have come to help – especially Nadia, his accountant who moonlights as a pit fighter. Together with a whisky-loving hobgoblin known as Buck Foi and the ancient Druid Atticus O'Sullivan, along with his dogs, Oberon and Starbuck, Al and Nadia will face down the wildest wonders Australia – and the supernatural world – can throw at them, and confront a legendary monster not seen in centuries. 
Releases August 10, 2021 Amazon | Audible
Ignoring the fact that Kevin Hearne is auto buy for me on audio, I am also collecting the hardcovers for this series. I loved the Iron Druid Chronicles narrated by Luke Daniels and own them all on audio & ebook. I was super excited about this new series set in the same world. Al MacBharrais uses ink & sigils to perform his magic. He keeps things in balance along with others scattered around the world. I was hooked after listening to Ink & Sigil. I love the new cast of characters and I'm excited that we will see some familiar faces. Read my review of Ink & Sigil.
Million Dollar Demon by Kim Harrison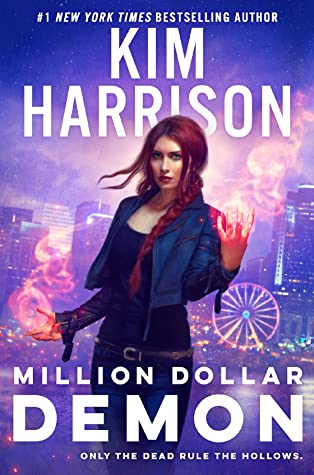 To save the city, Rachel Morgan will need to show some teeth in the next Hollows novel from #1 New York Times bestselling author Kim Harrison.
The new master vampire of Cincinnati has arrived . . . and she wants Rachel Morgan out. No matter where Rachel goes, Constance is there–threatening Rachel's allies, causing city-wide chaos, and, to add insult to injury, even forcing Rachel out of her current quarters. Ever since Rachel found a way to save the souls of vampires, the old undead's longtime ascendancy has been broken. Now Constance sees eliminating Rachel as the key to consolidating her own power.
Rachel has no desire to be enthralled or killed–and she's terrified of what may become of the city if Constance forces a return to the ancient ways. But even a witch-born demon can't stand against the old undead–at least, not alone. And if Rachel refuses to claim the role of Cincinnati's master demon, the city will tear itself apart, taking her and all those who stand beside her with it.
Releases June 10, 2021 Amazon | Audible
Now I started the Hollows before I discovered audiobooks and the characters' voices are already in my head, so I've continued reading them. This series was one of my first urban fantasy series, along with Patricia Briggs, and I love Rachel, Jenks and Ivy. I cried when the series originally ended and was delighted when Harrison revisited the Hollows. Read my review of American Demon. I had a chance to read Million Dollar Demon…you'll definitely want to add it to your bookshelf.
Empire of the Vampire by Jay Kristoff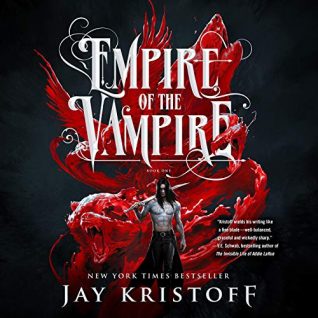 From the Sunday Times bestselling and award-winning author of the Nevernight Chronicle, comes this masterful new series.
It has been twenty-seven long years since the last sunrise.
For nearly three decades, vampires have waged war against humanity; building their eternal empire even as they tear down our own. Now, only a few tiny sparks of light endure in a sea of darkness.
Gabriel de León, half man, half monster and last remaining silversaint – a sworn brother of the holy Silver Order dedicated to defending the realm from the creatures of the night – is all that stands between the world and its end.
Now imprisoned by the very monsters he vowed to destroy, the last silversaint is forced to tell his story. A story of legendary battles and forbidden love, of faith lost and friendships won, of the Wars of the Blood and the Forever King and the quest for humanity's last remaining hope:
The Holy Grail.
Releases September 14, 2021 Amazon | Audible
I have enjoyed Kristoff's YA fantasies, and I'm over the moon excited about this new adult series featuring vampires. I've pre-ordered the audio and cannot wait to dive in. I tend to prefer his works on audio and typically go that route.
Risen by Benedict Jacka
Alex Verus must keep his friends close—and his enemies closer—in the epic conclusion to the bestselling urban fantasy series about a London-based mage.
Mage Alex Verus has gone from a Camden shopkeeper to one of the most powerful mages in Britain. Now his last and most dangerous battle lies before him. His lover, the life mage Anne, has fallen fully under the control of the deadly creature she made a bargain with, and it is preparing to create an army of mages subject to its every whim.
Alex, the Council, and the Dark mage Richard Drakh agree to call a truce in their war, and plans are made for a joint attack. But Alex knows that it's only a matter of time before Drakh and the Council turn on each other . . . and neither cares about keeping Anne alive. Can Alex figure out a way to stop Anne and to free her from possession before time runs out?
Releases December 7, 2021 Amazon
The audiobook isn't up for pre-order yet, but that doesn't stop me from checking each month. I have come to love Alex and his motley crew of mages. Narrated by Gildart Jackson, I can not image not listening. The series has been intense with growth, humor, snark, loss and adventure. Read my review of Forged.
What fantasy books have you preordered?
Five Fantasy Books I've preordered that release this year. #UrbanFantasy #Fantasy #Audiobook #Print #MustListen #MustRead #TakeMyMoney
Click To Tweet

Stay Caffeinated!
Never miss a post by adding Caffeinated to your Inbox