Hi Caffeinated Readers!
While Kimberly is off for some R&R, she gave me permission to stop by Caffeinated Reviewer and share a special June Is Audiobook Month event post. I chose to do a book tag to give you a feel for my audiobook tastes.
Some of the tag questions are nigh until impossible to have just one answer so what I chose to do was pick from a pool of possible answers. I wouldn't want to give the impression that I'm that so decisive as to have one top or favorite choice for something like books. Haha!
Well, let's get to it.
I enjoy a few YouTuber vloggers who are audiobook fans so I picked a tag that a pair of vloggers had done. One created the tag and the other re-worked it hence the title they gave it.
Audiobook Tag 2.0
hosted by Today in Jen Talks Audiobooks and Sol Means Sun
1. Name a book that is better on audio:
I am choosing the whole Southern Ghost Hunter series by Angie Fox narrated by Tavia Gilbert. I enjoyed reading the first and fifth books in this series, but Tavia's audio work takes it to a whole new level up.
2. Name a book that is worse on audio: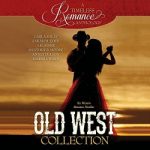 Sadly, I have one. The Old West Collection anthology is by four authors I have read in the past. I really struggled to finish this anthology when I was listening. The narrator gave a few of the heroines whiny voices, she had trouble with giving distinct voices to other characters particularly men, and her pacing was off with oddly placed pauses which affected the rhythm of the stories. Some of her female voices were spot on so it was not a complete disappointment.
3. Name your top female narrator:
I'm choosing Janet Metzger. I loved her work on Lost Lake by Sarah Addison Allen and Patricia Sands' Love in Provence trilogy. She has a soothing, subtle voice who does gender and accents well and is a perfect match for gently paced stories, particularly Women's Fiction.
Name your top male narrator:
I'm choosing John Glouchevitch who narrated RM Meluch's Tour of the Merrimack series. This is an all-galaxy Space Opera with big space battles, personal clashes, and political intrigue. He captured the spirit of the writing and the world of the stories so well (I could have chosen this one to answer a series better on audio, too). His ability to act out a large diverse cast of various genders, accents and social status kept all of it straight.
4. What is the longest audiobook I've listened to?
I'm still listening to it. LOL Drums of Autumn by Diana Gabaldon narrated by Davina Porter. 44 hours and 54 minutes.
5. What is the shortest audiobook I've listened to?
Christmas Eve 1914 full cast 1 hour and 13 minutes.
6. How do you listen?
Honestly, it depends on what's charged up, where I'm at, and if I'm alone. I listen on my phone or iPod with earbuds when someone else is around so they can do their thing, too. If I'm alone in the house, I prefer to listen through the speakers of our stereo or my computer.
7. Should authors narrate their own books?
I really don't feel strongly about this one other. If they've got the chops to do it well then I say let them go for it, but I do expect good quality narration work. JA Rock narrated her own Minotaur and she did a fab job.
8. Is there an audiobook that you wish could be redone?
I'm going to cheat on this one, but it's also true. My answer is any audiobook that I found a disappointing listen- whether it was quality of the recording or a narrator mismatch for the book. I'm also going to add that I prefer to have narrator consistency for a series so all those series that switch I want to go back and re-record.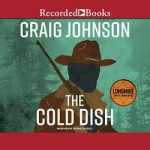 9. Best audiobook:
Yeah right, picking only one, nuh uh. So, I chose one from my growing lists of favorites. Cold Dish by Craig Johnson narrated by George Guidall.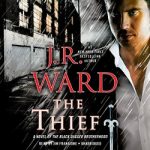 10. What is the most recent audiobook you've listened to?
At this moment, I am about half-way through The Thief by JR Ward narrated by Jim Frangione. It is my first experience with this series on audio and I'm loving the narrator work.
11. What is a book that I wish was on audio?
Again, I'm cheating because I don't have an answer to that one other than books I'm waiting for release. I'm going to pick one I wish my library carried. That would be Fate's Edge by Ilona Andrews. They have the first two books in the Edge series, but not the last two. I find this is true of several series where a book in the middle is missing. Grr.
Well, there you have it!
Tell me what you think of my replies or share some of your own responses. Or, feel free to do the tag and link back so I can visit your post.
Sophia Rose popped in at Caffeinated Reviewer to play Audiobook Tag 2.0. Come check out how she listens #JIAM #iloveaudiobooks
Click To Tweet
Related Posts