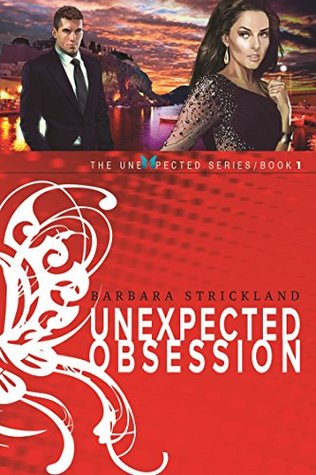 Unexpected Obsession
by Barbara Strickland
Series: The Unexpected Series #1
Genres: Dark Contemporary Romance
Source: Author
Purchase*: Amazon *affiliate
Rating:

Heat Level:
Tragedy takes Lia from Sydney to Sicily. Her father's last wishes were to re-unite his estranged family. Lia finds herself pitted against the formidable Nico who has no interest in reconciling the past. He is a man who needs to control every aspect of life around him, and is unprepared for Lia's spirit and determination. Can obsession and an overwhelming chemistry become more for Nico and Lia, or will it pull them apart?
Set against the backdrop of Italy and Sydney Unexpected Obsession by Barbara Strickland delivered a compelling dark contemporary romance. Strickland brought passion, depth and tender moments to this forbidden love story.
Coffee Dates with Unexpected Obsession
First Date: After the death of her father, Lia travels from Sydney to Sicily. She is determined to mend the rift that tore their family apart. Lia hasn't been in Italy since she was eight years old and her arrival at her Aunt Gina's home is unexpected and unwelcome, especially by Nico Gina's son. Right away readers experience the tension and undeniable chemistry between Nico and Lia. I was a little unsettled in the beginning as I tried to establish their familial connection and worried this might be a taboo romance, but their ties were explained. Strickland shares events from the past throughout the story and eventually readers will understand what caused the divide among these families.
Second date: As Lia's kind spirit shines she reconnects with her Aunt Gina much to Nico's dismay. Her presence upends him, and soon she is all he can think about. Strickland does an excellent job of developing these complex, intense and flawed characters. While I didn't particularly care for Nico, I can honestly say I understood what drove him. The banter, sexual frustration and denial build until the inevitable happens. While the story has strong sexual content filled with dominance, surrender, and steamy details it gave insight into Nico's needs for control and ultimately his fears. Don't expect to get cozy with this romance, it pushes boundaries and at times made me uncomfortable. An unexpected development drives them together, and at first, everything is blissful.
Third Date: Nico's fears push him to do the unthinkable and Lia reacts precisely how he anticipated. Here we indeed see the depth of Nico's flaws and the strength of Lia's personality. These two create a storm filled with electricity and power that everyone around them feels. This final date takes us to Sydney before returning us to Italy. Aspects tugged at my heartstrings and kept me wondering if a happily ever after was possible.
Unexpected Obsession will push readers out of their comfort zone in this dark contemporary romance with depth, complexity, and insight. I would shelve it next to The Bourbon Thief by Tiffany Reisz.
Unexpected Obsession by Barbara Strickland delivered a compelling dark contemporary romance.
Click To Tweet
Related Posts